If you get much of your local news on Facebook, as many Kennebec Journal and Morning Sentinel readers do, you may be seeing fewer of our posts than you used to. That's because Facebook has changed how it delivers news to its users, but you can undo that change to make sure you don't miss out on our coverage.
Facebook changes its algorithm (the system that determines which posts you see in your news feed) frequently, which you've already seen if you've been using it for a while. Its latest change prioritizes posts from your friends and family over stories from news outlets like us. While family comes first and you might be glad to see more of your loved ones' updates, this change can bump our posts out of your news feed.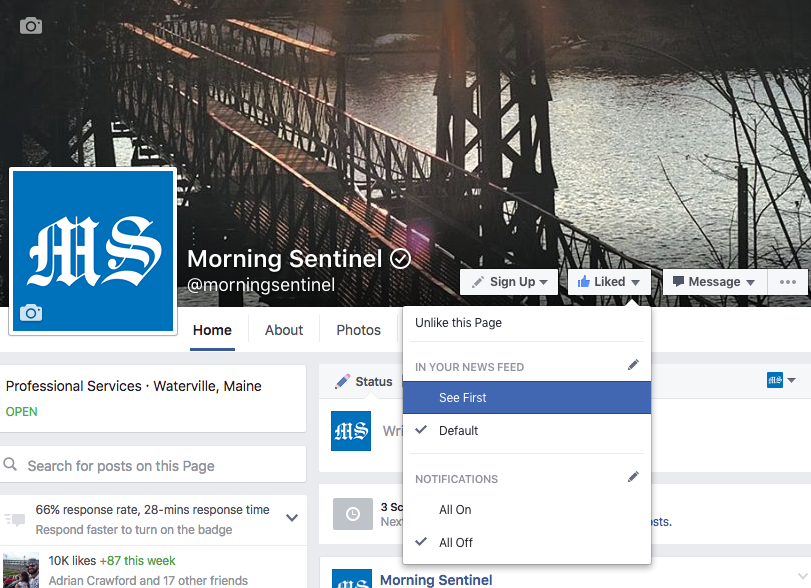 Fortunately, Facebook has designed a way to make sure you continue to see posts from news organizations you value. Here's how:
Go to the Journal or Sentinel's Facebook page and make sure the "Liked" box is checked. If you're on a desktop or laptop computer, just hover your cursor over that "Liked" box and a drop-down menu will appear. If you're on your phone, tap the "Following" button to get the menu.
Under the "In Your News Feed" heading in that menu, you should see two options: "See First" and "Default." If "Default" is checked, Facebook's new algorithm will apply, meaning you could see less of our content. However, if you already click on many of our Facebook posts, the new algorithm will recognize that and keep showing them to you. But if you want to make sure you don't miss our posts, you can click "See First." That will put all our recent new posts since you last logged in to Facebook at the top of your news feed.
You can also click the pencil icon next to those two options to have more control over what kinds of Journal and/or Sentinel posts appear in your feed. And you can always go back to this menu and change your choices.
We hope this helps keep you informed while keeping up with your friends and family on Facebook. Thanks for reading!