"The How Can It Be Gluten Free Cookbook: Volume 2." America's Test Kitchen. $26.95
Since my daughter-in-law became gluten-sensitive more than a year ago, it's been a challenge to find gluten-free alternatives to serve with family meals.
To date, the store-bought, gluten-free products I've served have been met with comments such as "too dense," "like cardboard" and "I'm not a fan." I've also gotten feedback delivered via a face so horribly contorted that words weren't necessary.
Trust me, I get it! I'd find it difficult to content myself with a celery stick while watching others enjoy favorite foods that are no longer part of my diet.
It all came to a head recently at a barbecue, where I served store-bought, gluten-free hot dog rolls that turned out to be the texture of a Styrofoam pool noodle. Exasperated with the pre-made options, I turned to the folks at America's Test Kitchen, who recently published a second volume of gluten-free recipes, "How Can It Be Gluten Free 2."
The cookbook begins with a 35-page tutorial on the science of gluten and its role in developing baked goods, while offering tips for creating gluten-free flour alternatives. It gives strategies for using binders, hints for troubleshooting recipes and reviews of gluten-free store products. This section is especially helpful in explaining how different ingredients and techniques affect the outcome of recipes, as shown in plentiful side-by-side comparison photos. (I was momentarily transported back to junior high science class, where I naively wondered when I would ever need to use chemistry in daily life.) It's worth reading this section carefully before you get into the kitchen and begin cooking.
"How Can It Be Gluten Free 2" offers a varied selection of 190 recipes for breakfast, comfort foods and desserts, every single one of which is front-loaded with commentary explaining what the test kitchen tried – and whether it worked or didn't. I focused on baked goods because this is where gluten-sensitive folks tend to struggle.
Also, baking is notoriously exacting, and when baking gluten-free goodies, there is even less room for error; the book's meticulous instructions and photos are a big help. Recipes include brioche (yes! brioche!), yeast doughnuts, bagels, graham crackers (hello cheesecake!), pizza dough and dumplings.
First, I put together the "all-purpose flour" mixture called for in many of the book's recipes. It's a pricey blend of white rice and brown rices and potato and tapioca flours. The book also lists measurement changes for cooks who prefer to use store-bought gluten-free flour blends.
Then, using my homemade mix, I made hamburger buns. For DIY types, this recipe offers a step-by-step tutorial for making 4-inch round aluminum foil molds that help the buns hold their shape as they rise and bake. It's extra work, but which do you want to eat – a Styrofoam pool noodle or a tender hamburger bun? Some things are worth the effort.
My first batch of buns was dense and dry and had a chemical aftertaste. The recipe said I'd need those tinfoil collars to hem in the loose dough as it rose, but my dough was as solid as a new container of Play-Doh.
Since the cookbook lists ingredients by weight and measure, and I use a "dip and sweep" method to measure ingredients, I wondered if humidity was to blame for the outcome. (Maybe I'd learned more in science class than I thought, though perhaps I should have paid more attention in math class – this culinary experiment was starting to add up to a lot of money!) Too far in to quit, I made one final investment. I bought a food scale, then retested the recipe.
It turns out that the 12 ounces of weighed flour called for in the hamburger buns amounted to far less than the 2⅔ cups called for by measure. I noticed the difference immediately when mixing the ingredients. Though the second batch started off very wet, a 5-minute beating time allowed the flour to absorb the liquid and resulted in the cookie-doughlike texture the recipe sought.
A taste of the batter revealed the same chemical aftertaste as before. Undaunted, I continued with the recipe and one hour later, I was rewarded with a tray of hot, fluffy hamburger buns. Ignoring the recipe instructions, I immediately tore off a chunk from a roll for a taste.
Ooohhh … it was tender and delicious, with no unpleasant aftertaste. I slathered the rest of the roll with butter and finished it, thinking that these could be the perfect substitute for dinner rolls at Thanksgiving. Though their texture is heartier than classic store-bought hamburger rolls, for gluten-sensitive folks, they are a great alternative.
The next day, a leftover bun was still pillowy soft and delicious. I smiled as I tossed the other leftover buns into the freezer, ready for my next barbecue.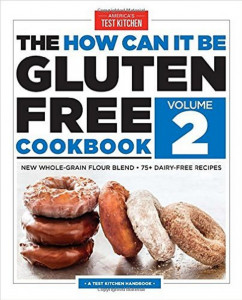 ATK ALL-PURPOSE GLUTEN-FREE FLOUR BLEND
24 ounces (1⅔ cups) white rice flour
7½ ounces (2¼ cups) brown rice flour
7 ounces (1⅓ cups) potato starch
3 ounces (¾ cup) tapioca starch (flour)
¾ ounce (3 tablespoons) nonfat milk powder
Whisk together ingredients and store in airtight container in refrigerator for up to three months or freeze for up to six months.
Bring to room temperature before using.
HAMBURGER ROLLS
You can find powdered psyllium husk at many health food stores.
Makes 8 rolls
18 ounces (2¼ cups) warm water (110 degrees)
2¼ teaspoons instant or rapid-rise yeast
2 tablespoons plus 1 teaspoon sugar
2 large eggs, lightly beaten
2 tablespoons unsalted butter, melted and cooled
12 ounces (2⅔ cups) ATK all-purpose gluten-free flour blend
6 ounces (2 cups) oat flour
3 tablespoons powdered psyllium husk
2 teaspoons baking powder
1½ teaspoons salt
1 teaspoon sesame seeds
Adjust oven rack to middle position and heat oven to 200 degrees. As soon as oven reaches 200 degrees, turn it off.
Line a large baking sheet with parchment paper. Create the bun molds using aluminum foil: Cut a piece of foil 13½ inches long for each mold, folding in half, lengthwise, then in half again until the strip is about 2-3 inches wide; shape each of these into a 4-inch ring, stapling a few times to hold its shape.
Place on baking sheet and spray insides lightly with nonstick spray.
Combine warm water, yeast and one teaspoon of the sugar; let sit until bubbly, about five minutes. Whisk in eggs and butter.
Using a stand mixer, fitted with a paddle, combine flours with remaining dry ingredients.
With mixer on low, slowly add wet ingredients, scraping down mixture in bowl as needed. Increase speed to medium and beat until sticky and uniform, 5-6 minutes. Dough will resemble cookie dough.
Working with half-cups of dough at a time, shape each into a rough round using wet hands, and place each into a foil collar. Cover loosely with plastic wrap and place in oven to proof for 10 minutes; do not let plastic wrap touch oven rack.
Remove rolls from oven and allow to continue rising at room temperature for 20 more minutes.
Meanwhile, heat the oven to 400 degrees.
Reduce oven to 350 degrees, remove plastic wrap and bake rolls for 35 to 40 minutes.
Transfer rolls to wire rack and let cool completely before serving.
Split rolls can be wrapped in a double layer of plastic wrap and stored at room temperature for up to two days, or freeze for up to one month.
If frozen, microwave at 50 percent power for one minute, then toast until golden.
filed under: