A
licia Barnes paused over a folded American flag, picking it up and holding it for just a moment. The heavy-duty flag with embroidered stars fit neatly into its triangular box on a stack of other boxes in Barnes' storage facility in Chelsea, where most of her family's belongings have been stashed for months. She had ordered the flag as a gift for her older son's third birthday. She wasn't able to spend the birthday with him because she was serving on the USS Kearsarge in the in the opening weeks of the 2003 U.S. invasion of Iraq.
Until this week, Barnes, 42, had been a homeless veteran. When she left her last job, she lost not only her income, but also her home, her vehicle and her ability to pay her bills. For nearly 10 months, she and her two sons, now ages 16 and 11, have been "couch surfing" with friends while she looked for work and volunteered.
"There's always someone who's worse off than you," she said, matter-of-factly.
As Togus celebrates its 150th year, the number of homeless veterans is just one of several complicated challenges facing the nation's oldest Veterans Affairs facility as it tries to adapt to changing expectations for providing a broader range of health care services to veterans. An influx of a new generation of veterans who served in wars in Afghanistan and Iraq is bringing new needs, while nationwide concern over VA wait times for appointments and other services is adding new urgency to provide care in a timely manner.
"Considering it's the oldest (VA facility) in the nation, the directors up there have busted their butts to get things done for the veterans, especially the rural veterans," said Gary Laweryson, of Waldoboro, a former Marine who is the chairman of the Maine Veterans Coordinating Committee, a coalition of veterans groups that advocate for their members' needs.
Barnes doesn't fit the average profile of a homeless veteran in the United States, where more than 90 percent are men.
Every year, the U.S. Department of Housing and Urban Development conducts a national census in mid-January to get a count of homeless Americans. In the 2015 census, 11 percent of 436,921 homeless people counted were veterans. While most were single, 3 percent of that population, or 1,562 veterans, were homeless with children. Compared to a decade ago, when some counts put the population of homeless veterans at 195,000, the population has decreased by 75 percent.
In Maine, the number of homeless veterans counted as part of the 2015 Annual Homeless Assessment Report to Congress was 151, which is about 1 percent of all the state's homeless. That's down from 152 counted in the 2014 report but nearly twice the number of homeless veterans surveyed for the report about a decade earlier. The report provides no gender breakdown.
Even as the problem is shrinking nationally, it persists in Maine. As part of a larger national strategy announced in 2010, the U.S. Department of Veterans Affairs has a stated goal to end veterans' homelessness.
"The need is not going to go away unless we make it go away," said Ryan Lilly, director of VA Maine Healthcare Systems-Togus.
In the decades since the National Asylum for Disabled Volunteer Soldiers first started housing wounded veterans of the bloody U.S. Civil War, the Togus facility has grown from housing several hundred men, sometimes indifferently, into an organization that serves about 42,000 of Maine's nearly 130,000 veterans with a general medical, surgical, psychiatric hospital and a nursing home that accommodates both long-term stays and dementia care.
That population has been growing at a rate of 3 percent to 5 percent a year, a rate that is projected to stay at that level for a number of years. That means the need for services and facilities at the 500-plus-acre Togus campus and across Maine is expected to remain, even as the Department of Veterans Affairs' Veterans Health Administration diversifies to include care of aging veterans with chronic illnesses as well as caring for Iraq and Afghanistan veterans, many of whom are suffering the effects of traumatic brain injury and the loss of limbs in addition to post-traumatic stress disorder.
For VA officials, the once-isolated health service is mirroring the shifts of civilian health care delivery by providing treatment to veterans in hospital-based clinics and at community-based outpatient clinics across the state.
"We're doing a lot of things well, and the quality of health care is good," Lilly said. "That's borne out by any number of performance measures."
Among the VA's systemwide successes is its reliance on evidence-based medicine, which uses the best evidence in making decisions about how to treat patients.
"There are a lot of things in medicine that you know the science bears out that when you do well, patients have better outcomes," he said. "If you have diabetes, we know if we control your blood pressure well, then you have fewer complications over time with diabetes. The research bears that out."
That's not an insignificant example. The average age of a veteran seeking care at VA Maine Health care is 66, and that means many have some sort of chronic disease. Once someone is in the VA system, Lilly said, he or she typically remains in it for life. That also means, Lilly said, that the VA Maine Healthcare staff is experienced in chronic disease management.
"We have a comprehensive approach to health care," Lilly said. "We are uniquely positioned to address more components of health than any other health care system."
LAGGING BEHIND
Jerry Dewitt, commander of the American Veterans Department of Maine, said he's happy with some health services he receives at Togus, but he's not happy about other things. AMVETS is a national, nonprofit organization that routinely advocates for veterans and helps them navigate the complex system of benefits and health care.
"If it was a perfect world," Dewitt said, "I would like everyone to receive the services they need when they need it and not have to jump through hoops to get the service they earned by serving their country."
Dewitt has been watching as the national scandals that have roiled the VA have played out, some of those affecting VA Maine Healthcare.
In early 2014, the VA health care system came under intense scrutiny when whistleblower reports surfaced reporting that perhaps 40 veterans seeking care from Phoenix-area Veterans Affairs facilities had died while waiting for care. That in turn prompted hundreds of allegations, both in Phoenix and across the nation, that wait times were being manipulated in order to meet federal benchmarks.
An investigation by the VA Office of Inspector General documented poor quality of care and confirmed that waiting lists were being manipulated to mask the amount of time that veterans spent waiting for appointments and getting care.
Although investigations took in a number of hospitals in the VA system, Togus was not among them. But that didn't mean VA Maine Healthcare was exempt from its own problems.
A report released in June 2015 by the VA Office of Inspector General linked the VA Maine Healthcare System to "nationwide systemic problems" that led either to long waiting periods for veterans seeking mental health services or to not receiving them at all because of inappropriate scheduling processes or other problems.
The report was requested by then-U.S. Rep. Mike Michaud, a Democrat who represented Maine's 2nd District. The eight-month investigation identified problems in staffing levels and employee morale in the mental health unit, as well as fear of reprisals. But it failed to substantiate many allegations that led to the investigation, including that staff members were directed to leave information about service-connected mental health problems out of records as way to limit the number of veterans seeking appointments. It also found no indication of scheduling shortcuts to meet the wait-time benchmarks sent by the VA, which was found to be a pervasive practice in the VA system.
By the time the report was released, VA Maine Healthcare already was adding 40 staff members, 17 of whom were to be working in mental health services. Funding for the additional staff was included in the Veterans Access, Choice and Accountability Act, which was intended to overhaul veterans' health care and eliminate long waiting periods by allowing veterans to get care outside the VA system in some instances.
"There's still a long waiting list for appointments," Dewitt said. "(The VA) was supposed to give you a referral to community providers if they can't get you in, in 30 to 45 days. Sometimes they cancel appointments. They're still playing games with the calendars, primarily for primary care, and some specialists are not staffed."
Lilly acknowledged that the VA has not always done everything perfectly, but said it is leading the country in some areas of health care.
CUTTING EDGE
The VA is empowered to consider and address a wide range of components that affect providing health care to veterans, including whether a veteran has a place to stay and what his or her family situation might be, he said. The VA can assign caseworkers to help find housing, job training or substance abuse treatment, depending on what's needed.
Lilly said if a veteran has no place to sleep, that becomes a greater and more immediate concern than whether his or her hypertension is being treated properly.
"In fairness, it took us a while to come around to that point of view," he said.
In 2009, the White House and the VA announced their plan to end veteran homelessness.
And because it's a national system, one of the VA's strengths is sharing information and knowledge on emerging treatments and interventions, Lilly said.
The VA was the first large organization to adopt electronic medical records, long before the federal Affordable Care Act required the practice starting in 2012. That gives veterans access to their information no matter where they are in the country. It's also a leader in tele-medicine — using available, secure technology to provide medical supervision to veterans where they live.   
Lilly said the VA also is taking a lead in genomic medicine, which uses genetic information in making health care decisions. The Million Veteran Program, the largest genomic study in the world, is collecting DNA profiles from veterans who voluntarily take part to build a database of historical information on any injuries and illnesses veterans encounter. With it, researchers will be able to study how genes affect health.
Many veterans appreciate the services they receive from the VA facility.
"They are a dedicated bunch of folks," Ben Stern said. The former Marine from Mount Vernon worked at MaineGeneral Medical Center for 14 years and was the manager of non-invasive cardiology before he retired.
"The computer system they have now is probably a model for what can be done on the civilian side," Stern said. "I can access my records, talk directly to my PCP (primary care physician) and pharmacy, and it's all secure, at a moment's notice. If I have a problem, they will triage me and send me through the system."
The primary care physicians are like PCPs anywhere — overworked, new to the VA system and new to patients, he said, but easy access to records lets patients correct errors they might find.
"I have a lot of respect for these young guys," he said. His son is in the Air Force, and Stern said he knows if his son were to be injured, he would be well taken care of.
WORKING TO IMPROVE
Among the areas where VA Maine Health care could improve is access to health care, officials say. Lilly acknowledged that means veterans have the expectation that they "want to be seen and they want to be seen today."
The VA has set a standard under which patients should be seen within 14 days.
"That's for everything — audiology, mental health, everything," he said. "We're learning that that's too ambitious for us. The system is not limitless."
VA Maine Healthcare is part of the Veterans Integrated Service Network, which includes five New England states. VA hospitals in each of those states are ranked in 12 areas, which includes responsiveness of hospital staff, pain management and communication with doctors. In the most recent assessment for 2013-14, VA Maine Healthcare performed about as well or as poorly as the VA's other facilities in the region.
If a veteran needs to be seen for something urgent, he or she should be able to be seen that day. But a World War II-era veteran who finally has decided to have his hearing tested might have to wait.
Lilly also said VA Maine Healthcare has poor capacity for mental health inpatient beds at Togus.
One of the VA's biggest problems is the funding model; it's slow and it's at the whim of Congress, Lilly said. When the workload shifts or other drivers such as increasing prescription costs come into play, the VA can be slow to respond. "It's getting better. You can do a lot, but if you don't have the funding, the model is slow to change," he said.
He also acknowledged that the frustration level for veterans can be high. That's partly because of the existence of two branches of the VA, health care and benefits. Now they are entirely separate areas of the VA, but at one time they were joined.
"These are lifetime benefits, so you want to get it right," he said.
As recently as 2013, the benefits system had a backlog of more than 611,000 claims, both for disability and pension, but now the number of backlogged cases is around 75,000 nationwide.
Lilly said the review process can be time-consuming for a number of reasons. Finding records from more than one agency to document an injury is a big part of that. Because there is no lifetime limitation on filing claims, a veteran can file a claim for an injury that's now four decades old; and if records don't exist, tracking down witness statements verifying an injury also takes time.
"The further out you get, the more complicated it can become. It's all a very time-intensive process," he said.
Ultimately, he said, the VA will be able to get records directly from the U.S. Department of Defense electronically, which will give a wider basis on which to finalize claims, he said.
A big part of the VA's strategy to address homelessness among veterans is the HUD-Veterans Affairs Supportive Housing program. The U.S. Department of Housing and Urban Development offers rental assistance vouchers to veterans to give them a place to live, and Veterans Affairs provides whatever support services are needed, including health care, mental health care or substance abuse treatment, to ensure the veteran is able to stay in that housing.
Part of that effort comes in the annual Homeless Veteran Stand Down, hosted at the Togus campus. Transportation is provided to veterans from across Maine to spend the day at the campus a few miles east of downtown Augusta, where they can get clothes, boots, haircuts and food and learn about services available to them, including veterans benefits, legal services, employment training, housing resources and health care.
Across the country, the VA is a partner to a number of programs aimed at curtailing homelessness. In Maine, the VA is collaborating on the Cabin in the Woods project with the Volunteers of America. The Volunteers of America Northern New England secured a long-term lease from the VA for 11 acres of the Togus campus in Chelsea in 2009, and it was been working on a plan to develop 21 residential cabins on the site for single veterans or those with families who are homeless or at risk of becoming so.
Last December, the project received word it would share in about $2.9 million in federal low-income housing tax credits. In June, when the project plans were reviewed by the Chelsea Planning Board, project officials said the project could go out to bid this fall.
The veterans who would live there would be issued vouchers to help pay for housing, and they are expected to use the VA services available to them.
The Cabin in the Woods is considered permanent housing. The Volunteers of America Northern New England operates two transitional housing facilities in the Saco-Biddeford area.
Lilly said he thinks the VA will partner with organizations on projects such as these and take on projects of its own.
"There are any number of ways things can go in the future," he said. "Assisted living is not a level of service the VA provides. Those veterans are on their own. Could you imagine a scenario in 10 years, if we disbursed the services to (community-based outpatient centers) and do that here? It makes all the sense in the world."
FINDING HELP
None of this, however, lessens the frustration factor of some veterans who don't know what kind of help is available.
Barnes, who recently spent 10 months as a homeless veteran with two children, didn't have to worry about housing or feeding her children when she was serving in the Navy from 1998 to 2005, working in radar and flight deck communications of an amphibious assault ship.
After leaving the Navy, she earned a degree in psychology from Purdue University and eventually moved to Maine with her sons. When she lost her job, she found herself without the well-developed military network, and she struggled.
"Relocation was not an option," she said. "They are my primary priority."
Her sons are Jake, who attends the Maine Academy of Natural Sciences at the Good Will-Hinckley campus in Fairfield; and Joe, who attends the Cushnoc Academy at the Stepping Stones Montessori School in Chelsea.
VA Healthcare in Maine:
Because she's been out of the service for 11 years, she's not eligible for the programs aimed at employing veterans who have left military service in just the last few years. Her only option for work using what she learned in the Navy was with the merchant marine, but that would keep her away from her sons 280 days a year. So she kept looking.
Among the options available to her was a voucher, but she turned it down.
"If I get the voucher, how do I pay bills?" At that time, she didn't have a job, so she had no way to meet all her family's other expenses.
As she was looking for a job, she was serving on boards including that of the Volunteers of America Northern New England and the Betsy Ann Ross House of Hope in Augusta, which plans to provide housing for homeless female veterans. It's expected to be open in November.
"If that were available seven or eight months ago, I might have qualified," she said.
But several things have changed. Barnes successfully applied to the VA for a disability rating for her diagnosed post-traumatic stress disorder. That guarantees her a monthly payment.
"I didn't even know I was eligible until I looked it up," she said, noting that a lot of female veterans are not getting access to benefits they are eligible for.
That also means the VA pays for her health insurance, which ends up being a savings for her employers.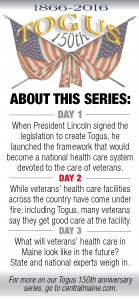 She also secured two communications jobs — one full-time, the other part-time — and that's helping her to get caught up on past-due bills, which in turn eventually will improve her credit score, which took a hit and kept her from finding rental housing.
She and her sons are expected to move soon into a home she's renting in Winthrop. Through Martha Everatt St. Pierre, the House of Hope executive director, she found her landlord, also a veteran, who was willing to take a chance on her.
"Veterans have a tendency to not seek help and not allow people to help," she said. "That's a tough thing to swallow, but I did it for my kids."
Jessica Lowell — 621-5632
Twitter: @JLowellKJ
filed under: