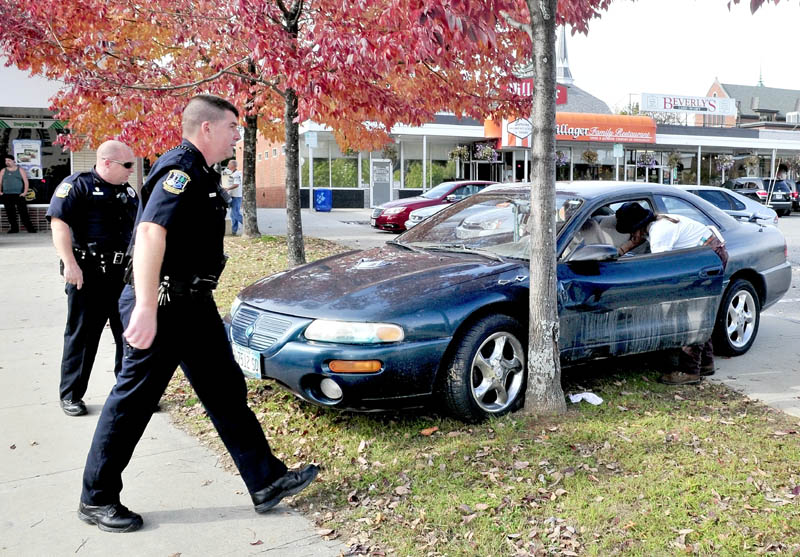 WATERVILLE — A Fairfield woman was taken to the hospital Tuesday after the car she was driving plunged forward in The Concourse parking lot, pinning her leg between the car door and a tree.
Lori Smith, 48, was trying to park a 1995 Chrysler Sebring near The Villager restaurant when the car dove forward over a sidewalk and onto the grass, according to police Officer Galen Estes.
The driver's side door was open at the time and Smith's left leg was outside of the car, he said.
"When the vehicle lurched forward, it pinned her leg in the door against the tree," he said.
Estes and other police officers, as well as firefighters and ambulance crews, converged on The Concourse seconds after the crash, which was reported at 2:07 p.m.
As crews worked to get her out of the car and onto a stretcher, Smith was describing how her car just catapulted forward, scraping the tree.
"I said, 'Oh my God, I couldn't stop,'" she said.
Smith was taken by Delta ambulance to MaineGeneral Medical Center's Thayer Campus. A hospital spokeswoman said around 6 p.m. that she was in good condition.
Estes said at the scene that Smith told police she thought her brakes had failed, but he said he checked the brakes afterward and they were working.
Asked if Smith could have put her foot on the gas instead of the brake just before the crash, Estes replied, "That is possible."
The young ash tree the car struck is three trees away from the Dollar Tree store.
Downtown shoppers came out of stores to watch the goings-on.
Amy Calder — 861-9247