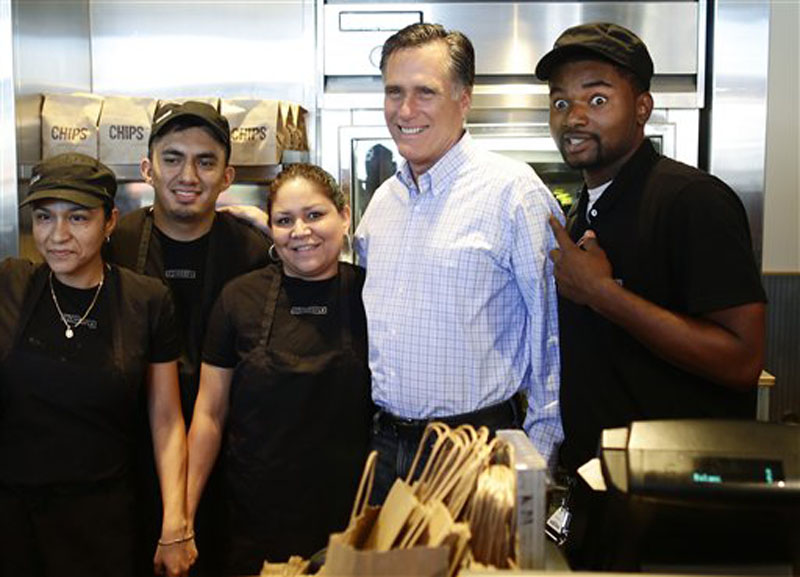 DENVER — The manager of a Denver Chipotle restaurant has become an Internet celebrity thanks to the wide-eyed pose he struck alongside Mitt Romney when the Republican presidential candidate stopped by for lunch.
Marty Arps, 20, posed for a group photo with Romney and Chipotle employees Tuesday afternoon. Arps is seen making a wide-eyed expression while pointing at Romney.
The Associated Press photo is being shared extensively on Twitter and is making the rounds on websites.
"It's a facial expression I do when I'm excited," Arps told The Daily. He told the online publication he made the same expression when he met singer Nicki Minaj.
"It's like, 'Ah, it's them, right there in front of you!' They're not from another world,'" he said.
Arps was not at work Wednesday, according to a Chipotle employee who answered the telephone.
Romney seemed unaware of Arps' pose and the mood was jovial, said AP photographer Charles Dharapak, who snapped the picture. "It didn't seem awkward. Everyone was having a good time," Dharapak said.
Romney ordered a pork burrito bowl with guacamole during a break from preparations for Wednesday's debate with President Barack Obama in Denver. He was joined by his debate training partner, Ohio Sen. Rob Portman.
Romney spent about five minutes greeting customers, and he also posed for a photo outside with a 3-year-old girl.
Arps told The Daily he doesn't know yet who he'll vote for. He said he's "not too hip to elections and stuff.