Many people contributed to worthy causes in 2013. Here's six key philanthropists who think locally and give generously here in Maine.


In this May 2012 file photo, Bill Creighton speaks at Waynflete School in Portland. Creighton donates about 75 percent of his income to charity. Gregory Rec/Staff Photographer
BILL CREIGHTON, FREEPORT
Bill Creighton of Freeport said he's motivated to give because he believes that people like him pay too little in taxes. He said the lesson hit home several years ago, when he sold 1.2 acres he owned on Deer Isle — including a sliver of waterfront land — for a six-figure sum. He had bought 36 acres on Deer Isle for $30,000 in 1972.
When Creighton did his taxes the next year, he was "astonished" to find out that he didn't owe any taxes, despite making a substantial profit from the sale.
"I did absolutely nothing to improve that property," he said. "Why shouldn't I at least be paying taxes on it the same as someone who has been going to work every day to earn a living?"
He said he bases his giving on the amount of taxes he should be paying — in his view, 75 percent of his income. He typically donates about $250,000 per year to various nonprofit groups.
He donates to Maine Citizens for Clean Elections, Maine Initiatives, the Preble Street Resource Center and the Maine Center for Economic Policy, and others.
"Mostly what I'm interested in is how to change the system," said Creighton, who is a political activist and chairman of the social justice nonprofit United for a Fair Economy.
The billionaire investor Warren Buffett has made many of the same points as Creighton, famously pointing out that his tax rate was less than his administrative assistant's.
Creighton said he has done many jobs over the years, including as a carpenter and a registered nurse, but he has had the luxury of moving from job to job because of the income from family trusts. His family owned a chemical manufacturing business in Massachusetts.
"I've never had to struggle. I've never had to work a job I didn't enjoy," he said.
He lives in a 2,000-square-foot house, renting out half of it at below-market rates, he said. "I live on about $30,000 per year and donate the rest."


Author Stephen King and his wife, Tabitha, donated $3 million to help renovate and expand the Bangor Public Library. Mike Segar/Reuters
STEPHEN AND TABITHA KING, BANGOR
Stephen and Tabitha King gave $3 million to the Bangor Public Library this year for renovations and expansions, part of a $9 million effort to overhaul the library.
Tabitha King was on the library's board for many years, and the Kings were known to hang out at the library.
Barbara McDade, the library's director, said the Kings don't act like celebrities, even though they're internationally famous.
"They're just real down-home people," she said. "They've always been ready to help out."
The 100-year-old library needs a new roof, which is copper and beyond repair. The Kings announced the $3 million as a matching grant, providing the other $6 million could be raised through other sources.
Bangor voters approved a $3 million bond this summer, and other funding sources leave the library with only about $400,000 left to raise to reach the $9 million goal.
The library was used as a fictional setting in Stephen King's bestseller "It," as a hideout for an evil clown.
The Kings' staff said the couple were unavailable for an interview.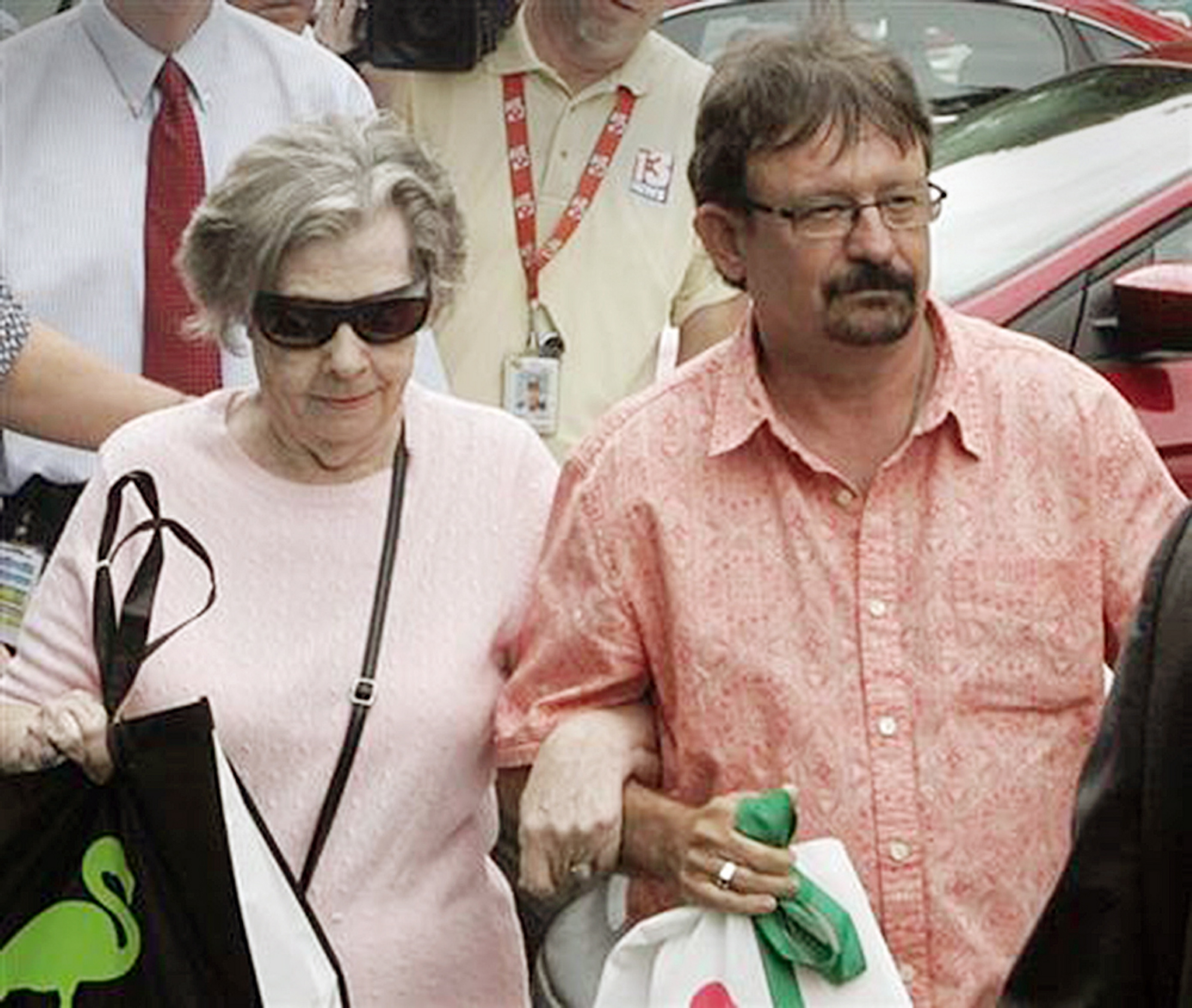 Powerball winner Gloria C. Mackenzie, 84, leaves the lottery office escorted by her son Scott Mackenzie in this June 2013 file photo. She donated $2 million to repair the roof at Schenck High School. The Associated Press
GLORIA MACKENZIE, EASTÂ MILLINOCKET
Gloria Mackenzie, a longtime East Millinocket resident who now lives in Florida, didn't forget her hometown after she won a $590 million Powerball jackpot in June. She donated $2 million to repair the roof at Schenck High School.
Except for brief written statements, she has avoided the media on all topics since winning the lottery. Whether she will continue to help out her former town is unknown, school officials said, but the donation was much needed.
"They have been very private," said Angel Danforth, a school board member in East Millinocket. "Our small community has been respecting their privacy."
Danforth said Mackenzie's family has deep roots in the community, but even so, no word of the donation leaked out before the school board meeting in July when the announcement of the $2 million donation shocked school officials, parents and students.
Paying for the roof without Mackenzie's donation would have been a struggle, said Danforth.
"We were all ecstatic, and very thankful," Danforth said. "It was a very big blessing."Â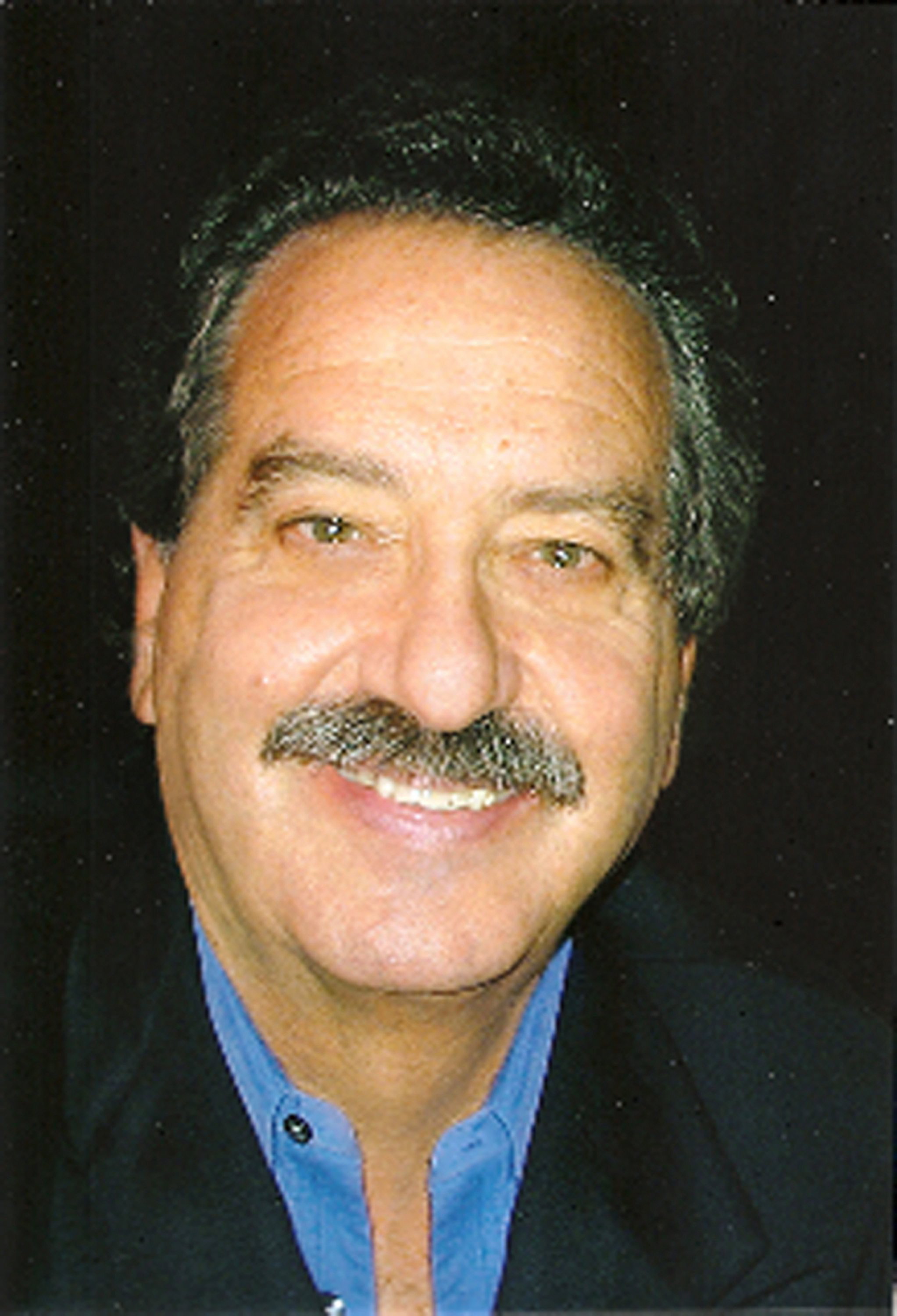 Donald Sussman quietly gives to many causes and organizations, including $1 million to help Pen Bay Healthcare finish building a hospice house. The Associated Press
S. DONALD SUSSMAN, NORTHÂ HAVEN
There are times when S. Donald Sussman makes headlines for his charitable donations. More often, his giving is done quietly and without fanfare.
That's the way he prefers it.
Sussman, a businessman and philanthropist from North Haven, recently gave $1 million to help Pen Bay Healthcare in Rockport finish building a hospice house, which will be named for his grandmother Ida Sussman.
His other donations in recent years include $1 million to Blue Hill Hospital in 2007, and a rent-free, five-year lease to the Portland Food Co-op with $44,000 for renovations to a building in the city's East End in 2011.
Sussman doesn't disclose how much he gives away annually, but said it is "way more substantial" than the $1 million gift for the hospice house in Rockport.
His philanthropy is wide-ranging and often quiet, benefiting people and organizations whose futures can be changed with a little bit of help. That includes putting people through college and donating to food banks that help feed senior citizens in Maine.
"I like to describe people as having speed bumps in their lives. If you can ease them through their speed bump, they can get on their way in a better fashion than before," he said.
Sussman, a financier and founder of the Paloma Funds, said he has been fortunate in his life to make good business decisions and find financial success. When he made his first $2 million, he gave $200,000 to a science institution. "That just seemed the right thing to do," he said.
He said his commitment to giving in Maine was reinforced by the trust a restaurant owner in Deer Isle placed in him when he first moved to the area and realized he didn't have any cash to pay for his dinner. She told him to come back another time to pay, no questions asked.
"It is the sense of trust in community that is really special in Maine," Sussman said. "It's what makes me want to reach out to members of our community who are needy in whatever form it is and take care of it."
Sussman is the majority share owner of MaineToday Media, which publishes the Portland Press Herald/Maine Sunday Telegram, the Kennebec Journal and the Morning Sentinel.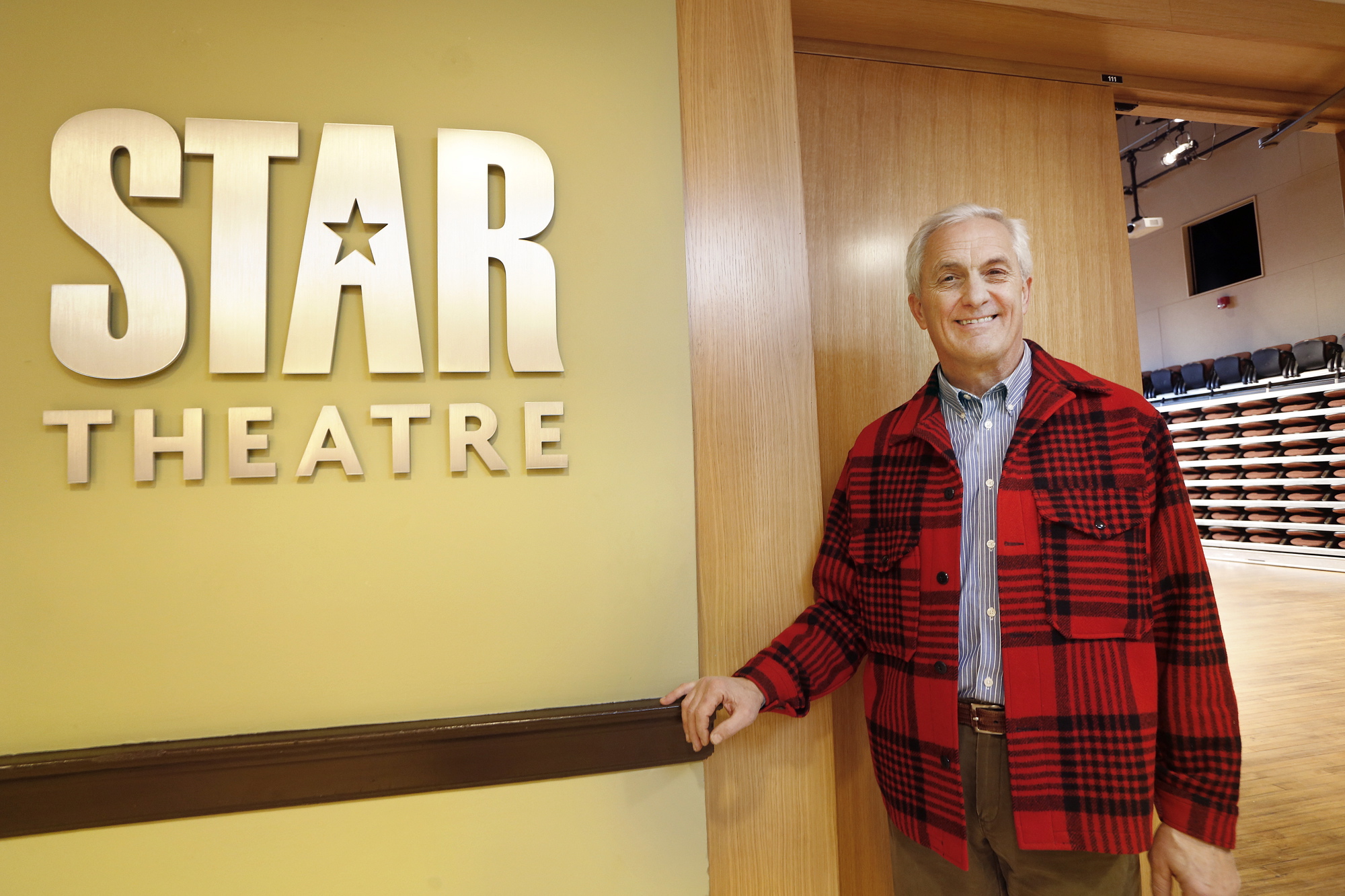 Peter Lamb poses at the STAR Theatre, one of the many causes he supports through his family foundation. Derek Davis/Staff Photographer
PETER LAMB, KITTERY POINT
Peter Lamb of Kittery Point is no stranger to philanthropy.
As a trustee of a fourth-generation family foundation, he helps give away tens of thousands of dollars each year in Maine and beyond.
As a consultant, he helps philanthropic families to be more strategic and bring more meaning to their giving.
Lamb, 60, focused much of his giving last year on connecting to Kittery, the town he has called home for the past four years. From archaeological digs in nearby South Berwick to land conservation acquisitions in Kittery, Lamb supports projects that allow him to connect to his community and encourage others to do the same.
"Regardless of the level, it's a matter of making a contribution," he said. "Whether it's volunteering your time or giving money, it's really about showing up and participating and being a good steward of your community. I just try to show up and be involved."
Lamb's family foundation — started with wealth acquired from the Star Expansion hardware business in New York — made a $50,000 matching grant for a theater at the newly renovated Kittery Community Center.
"We now have several hundred people who have a stake in that theater by having made a contribution. When they go to the theater, they say, 'This is my theater, too,' " he said.
Lamb directs much of his giving to environmental causes, including a $50,000 grant to the Mount Agamenticus to the Sea conservation project. He said the grant was used to help buy a parcel of land as part of the effort to preserve 20,000 acres between the coast and the mountain in York.
Lamb said philanthropy brings his family together and strengthens its identity as family members discuss various causes and how to support their communities.
"The way we think about giving has a lot to do with how we think as a family," he said.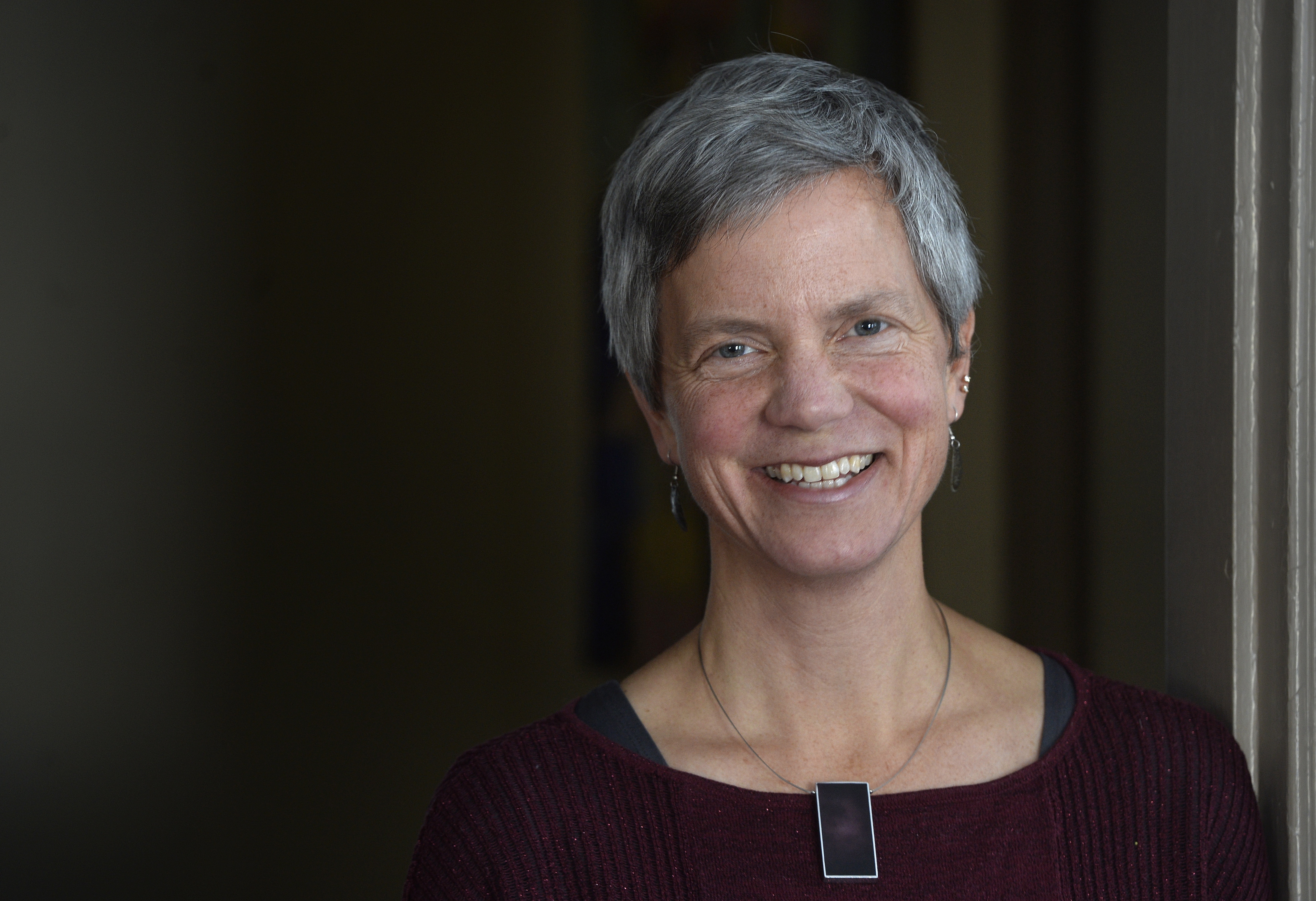 Clara Porter at her home Dec. 30. The social worker directs her contributions toward violence prevention, social justice and social change. Shawn Patrick Ouellette/Staff Photographer
CLARA PORTER, PORTLAND
Clara Porter will likely never be a household name for her philanthropic giving, but that's fine with her so long as nonprofit organizations can thrive with help from her donations.
"To be able to be involved in any way in their amazing work is exciting," Porter said. "It's really exciting when you see something grow, become successful and then sustain itself."
Porter, who lives in Portland with her husband and two daughters and teaches at the University of New England, focuses much of her volunteer work on violence prevention and her financial giving on social justice and social change, including marriage equality.
Porter, 48, declined to discuss how much money she donates each year, saying she gives money because she has it to give, not for any kind of recognition.
"It's a way of supporting work that is incredibly important, and the focus needs to be on that work," she said.
Porter, a social worker, runs "Prevention. Action. Change." It's a program that teaches self-defense to children and adults. She donates to various charities and campaigns, and has helped other nonprofits get off the ground, including Add Verb Productions, which provides health and wellness education through theater performances. She also supports Portland Trails, Space Gallery and other causes.
Porter makes many of her donations through organizations like Maine Initiatives and the Maine Women's Fund, which allows her to pool resources with other donors to help programs across the state.
While she can give financially, Porter said, "People give what they can give in lots of different forms. If they have money, they give money. If they have time, they give time," she said. "I don't think there's more value that should be given to someone who gives money than to someone who gives time. It's a collective thing."
This story was updated at 8:15 a.m., Jan.1, to correct numbers in the headline and a photo caption.Â