Robert Reilly was in prison in Pennsylvania and Maine for seven years. By choice. He was a prison guard. And his story, told in "Life In Prison — Eight Hours at a Time," published recently by Tilbury House in Thomaston, is shocking, scary, discouraging and disturbing.
This book is a must-read because the only way the horrific situation at our prisons will be corrected is if we demand it. And that won't happen unless and until we are aware of it. Special thanks to Tilbury House for publishing this important book.
I had just finished reading Reilly's book when I opened the Sunday newspaper on Jan. 4 and saw Bill Nemitz's column about jails. Nemitz noted that a state commission offered reform recommendations in 2004, and according to Mark Dion, former Cumberland County sheriff now serving in the Legislature, "many of the commission's 61 recommendations are, at best, works in progress." Eleven years later.
Like the recommendations of many state task forces and commissions, most of these have been put on the shelf and forgotten. Nemitz identified the reason in his interview with Joel Merry, Sagadahoc County sheriff, who said, "If you want to believe in rehabilitation and getting these people fixed, that is the time to do it — while they're incarcerated. But nobody cares. You're going to lose that argument every time."
According to Reilly, it isn't just those of us outside the jail who don't care. He writes about many prison guards and wardens who are cruel, uncaring and abusive to the inmates. The stories of prisoners in the mental health unit are particularly sad.
This book reinforced something I learned in the early 1980s when I was a Kennebec County commissioner. Our jail was full of people who were mentally ill or addicted to drugs or alcohol. And while we now offer programs to address these problems, we are far from getting the job done. This is especially true in our state prison.
But lest you ignore this book because it is disturbing, let me tell you that the book is also a well-written, uplifting story of Reilly's struggles to support his wife and kids. Reilly is a good storyteller. Some of the stories are hilarious and heart-warming.
Reilly came to the United States from his native England to pursue a career in rock and roll music. But after 13 years of limited success, he recognized that he was failing his family and needed a real job, steady pay and benefits. So he applied for a job as a prison guard in Pennsylvania. "I left the madness of the music business," he writes, "and entered the insanity of the U.S. prison system."
After burning out in Pennsylvania, Reilly and his family moved to Maine, seeking a quiet village, ocean and mountains, four seasons, good schools for the kids, and a sense of normalcy. Unfortunately, he found the same insanity in the Maine State Prison as he encountered in Pennsylvania.
Reilly started out in the Special Management Unit, which he described as "like a dungeon below a Roman circus. It has three separate units, which house about a hundred fifty inmates. Pandemonium often rules. Many of the prisoners are mentally ill. Most are locked down twenty-three hours a day, getting only one hour of rec in a 'dog run,' an isolated, elongated cage about thirty feet long. That's if the weather is good. SMU prisoners are not allowed any electronics or human contact, except for prison staff. … They slowly waste away … they pace around their cold concrete boxes like psychotic cannibals in a horror-movie mental hospital."
His job as a prison guard caused Reilly to challenge his faith and turned him into an angry man. Toward the end, a co-worker noticed that he looked angry, and told Reilly, "This is good. … You have to learn to love the hate. Once you really start to hate the inmates, the job becomes a lot easier. Everything's a lot simpler then."
The really good news is that Reilly eventually recognized that he had to get out of prison and got a job with a Maine custom boat builder.
Three years later, around Christmastime 2010, Reilly encountered a prison captain at the grocery store. "Listen, Reilly," said the captain. "Whatever you do, do not think about coming back to the prison. Things are worse than ever." Now that's really scary.
George Smith is a writer and TV talk show host. He can be reached at 34 Blake Hill Road, Mount Vernon 04352, or [email protected]. Read more of Smith's writings at www.georgesmithmaine.com.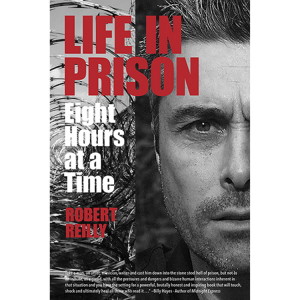 filed under: