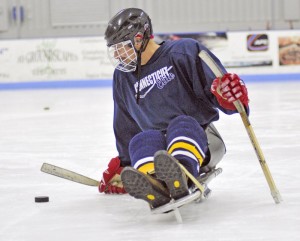 • While the players were clearly the most excited ones in the gym for last Friday's inaugural MPA unified basketball game between Cony and Oceanside, Rams coach Paul Vachon was easily a close second. A 2014 inductee into the Maine Basketball Hall of Fame, it was Vachon's first time back on the sidelines in seven years.
"I couldn't sleep last night, I'll be honest with you," Vachon said after the game. "I was up early and my wife was like, 'what are you doing up so early?' I said, 'I've got a game!'
"(At school) the kids said to me, 'why do you have your tie on today,' and I said, 'well I have a game, what am I supposed to do? It's game day baby, let's go!'"
• When you're a star athlete sometimes it can be easy to get a big head, but clearly that hasn't happened to Cony senior Arika Brochu.
An elite field hockey and softball player, Brochu called it "an easy decision" to participate in unified basketball when she found out Cony was adding it.
"It's always been on my mind that it's something that I want to pursue with my career and Cony offers a program where we can work with them in the classroom," she said after the game of special education. "I worked with them the entire first semester and I managed my schedule around so I could work with them again. I heard that they were going to play basketball and I knew that a lot of them really wanted to be a part of the team."
• While unified basketball has been new territory for Cony, Oceanside brought a little more experience to the table having competed in tournaments at the University of Southern Maine in the past. Oceanside coach Joanna Hall said that having a fell-fledged season takes the program to a whole new level.
"We're really super, super happy that our unified athletes are able to participate in an actual season such as this with the long-term commitment to it," Hall said. "One thing that it has definitely done is it has raised awareness in the school and in the community."
• This quote from Army veteran Christy Gardiner on convincing other vets to try sled hockey did not make it into Tuesday's story but it stood out to me: "That's part of the hardest things for us to do, to just smile and hope that things will get better. A lot of us have PTSD and don't sleep well and don't move well and our bodies hurt all the time. I think I'm more injured than most of the guys on the team, so they say well if you can do it than I can do it. It kind of gives them the jump to want to try more."
• On the topic of sled hockey, the Ice Vault should get plenty of kudos for helping facilitate this with providing ice time. Every other Thursday from 9 to 11 a.m. might not be in high demand but free ice time is hardly something to sneeze at.
"The rink has been very accommodating," Daniel Oliver, a recreational therapist with the VA, said. "They don't charge us ice time, they let us come in so it's been a great thing."
• A little bit on what Northeast Passage, based at the University of New Hampshire in Durham, is: "We're a non-profit, we do offer sports and rec for people with disabilities. We also offer therapeutic services, but this time of year we're coming out, working with the VA, working with the sled hockey program," Cam Forys, who works at Northeast Passage and with the sled hockey program in Augusta, said. "We bring some stuff up and kind of give an extra hand too. Then pretty much year round we're working in schools with people one-on-one, doing sports."
Forys said they offer a number of different adaptive sports through Northeast Passage and the most important thing is that participants find just what sport is right for them.
"If you find just that one thing that you're truly passionate about it changes everybody's life," Forys said. "It doesn't matter if it's hockey, some people love anything, but you see people come out and they're like, 'wow this game is awesome. I love this.' It changes people's lives."