Day Two
We caught up on our sleep and didn't get around to eating breakfast on our second day at Il Santo in Greve until almost 9 a.m. That's when Linda discovered that the two items she asked me to pick out in the supermarket yesterday were not quite what she wanted.
I thought I'd purchased orange juice because the container had a big orange on it, but it turned out to be red orange, carrot, and lemon juice. Linda kindly pointed out that, in addition to the orange on the carton, there was a carrot, and at the top, the word carrota. Luckily, the juice was delicious. But not so much the yogurt. I thought I'd chosen strawberry (the container was pink, after all) and vanilla (blue container). Instead, I'd purchased plain unsweetened yogurt, one low fat and one full fat. And not at all tasty. We did eat some, with cherries. But I don't think Linda will be giving me more shopping assignments at the supermarket! Or at least, she'll be double checking my selections.
We hiked the road up the steep hill behind Il Santo after breakfast, encountering a couple with two sons from Oregon on their first trip to Italy. We were delighted to give them a few restaurant and other recommendations. Then we headed to the village square for lunch. We walked all around, checking out menus, and then selected Caffe Lepanto, always busy, with good food ranging from creative bruchettas topped with interesting ingredients to our favorite pastas. I chose taglietelle with wild boar sauce.
In most restaurants, you'll be served a basket of bread and olive oil for dipping. We always enjoy that and made it a tradition at home too. As temperatures reached into the upper 80s, we opted for cold beer. I misunderstood Linda and ordered a small draft for her and a large draft for me. Hers turned out to be about one-third the size of mine. She was not happy! Later, I ordered a second large draft and shared it with her. Alls well that ends well.
Linda enjoyed lasagna. It was very cheesy and delicious. We ate outside (more people watching), and lingered a while. Then it was time to explore. We stopped at the information office to purchase a new map of the Greve area, then checked on all of our favorite shops. And we were delighted to discover our favorite wine shop, Enoteca la Chianti.
Last night we'd gone by its location at the end of the square and were astonished and disappointed to find the shop closed and the inside being totally torn apart. This is a really good wine shop and we were so happy to find it had only relocated. We celebrated by purchasing a bottle of Rosso from our favorite Italian winery, Avignonesi.
We visited Avignonesi several years ago. It's between Montelpuchianno and Cortona, maintains many types of ancient grape varieties, and makes delicious wine. It's also expensive, if and when you can find it in the United States. Here in Italy, it's a real bargain.
Day Three
Best breakfast view ever – from the window of the kitchen/dining room in our apartment. Still a nice cool breeze, so we lingered, ate breakfast late, and drove up and through Montefiorallo to the parking lot on the other side of the village, for a short hike along a dirt road with gorgeous views, then returned and drove further up the road, parked, and hiked about two miles on a gravel road. We love to hike these hillside roads, through farms, with gorgeous villas and amazing views. Eventually we could see the mountains to the north.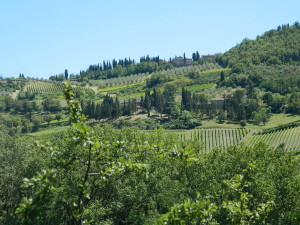 Returning to our car, we drove initially up a very curvy paved road, then on a rough gravel road to La Catinetta di Rignano, a restaurant we enjoyed years ago, and have decided to return for lunch sometime this visit. Then we backtracked and headed to Panzano. Part-way there, a right turn indicated that the small village on Montini was just a kilometer away, so we took that road. We love to explore here and there are many side roads offering those opportunities. This road was very rough and narrow, but we ended up descending into a gorgeous valley with a beautiful winery, Villa Cafaggio.
As I was turning around in their parking lot, Linda suggested we check it out, so we did. Great suggestion! This was a highlight of our day. A lovely young lady, Veronica, greeted us in English, showed us around, and then sat us down to sample some of their wines. She speaks English very well and was very informative. We learned a lot and enjoyed all of the wines, liking those made with sangiovese. Their Chianti Classico is 100 percent sangiovese and is aged in barrels for one year, and their Chianti Classico Reserva is 100 percent sangiovese and aged in barrels for 18 months. We especially loved the Reserva. It's very smooth.
We were surprised to learn they also grow their own grapes to create a Merlot, something we think of as French. And they also import grapes from France to create their own Cabernet Savignon.
As I picked out a bottle of both the Chianti Classico and the Reserva, Linda was talking to Veronica about their olive oils, and before I knew it, Linda was taste testing their oil, oohing and ahhing. And she added two bottles of olive oil to our purchase which totaled 42 euros.
So a morning walk and random ride resulted in a fantastic experience, plus some awesome wine and olive oil. And that's just one more reason we love Italy!
Read the first installment of George Smith's diary on his trip to Italy here. Future installments will be posted later.