Day Four 
The Pasta Man's shop is open! Closed since we arrived, we'd been somewhat impatiently but eagerly awaiting today. Linda loves to stop by after he opens at 10 a.m. and pick out fresh pasta and sauce for lunch or dinner that day.
Domenico Zito's shop is called Pasta D'Autore and is located at 14 Via C. Battisti in the village of Greve where we are staying for 11 days. We discovered Domenico on one of our first trips here, and in 2013 were devastated when we stopped by and the shop was boarded up and closed. But an inquiry at the Information office in the village square told us that he'd simply moved, and we bulleted right over to his new location for the day's pasta and sauce.
Domenico cuts his pasta to order – and that's as fresh as you can get it! Linda ordered tagliatelle today along with his fresh sauce and we're having that for dinner.
When I woke this morning, Linda was already outside enjoying a cup of coffee and excited by all the birds she'd seen. She was still trying to identify some of them, but it was the first time this trip we'd been able to see that many species. It isn't that we're not surrounded by birds. It's that they sit deep in the foliage and are impossible to see.
Among those we identified this morning was a European redstart with a white head and lots of orange, and a Molodious Warbler. The latter was a first for us, always exciting. The Red Start was the second bird we've seen here that is the same species of bird we see in our Mount Vernon yard, but with different coloring. Our Red Starts look much different than the ones here.
On our first trip to Italy 10 years ago, we spied a brilliant yellow bird with a bright red head along the waterway in the Greve, and raced back to our apartment to look it up. It was a European Goldfinch! Our goldfinches don't have red heads. It was gorgeous.
Today is a special food day – OK, every day in Italy is a special food day – but this one was special because we drove 30 minutes to Volpaia to dine at our favorite restaurant, La Bottega. Yes, this is our favorite restaurant in all of Italy. We discovered La Bottega on our second visit to Greve and have been enjoying amazing meals there ever since, at very reasonable (some would say low) prices.
The first time we came here, we drove overland on very rough gravel roads, then discovered a much easier route – winding, as most roads are here, but paved all the way. I've gotten so I love driving in Italy – but it took a bit of experience. I've dented all but one of the cars we've rented here, mostly because the parking spaces are tiny and I keep backing into things. But I'm getting better.
The experience here begins with the stunning scenery on the 5-kilometer drive up the hill. When you get to the ancient town of Volpaia, you will be stunned a second time. We have always eaten on the terrace, under shade trees, with a view of the hills and valleys that surround you. I love this description from their brochure:
"Daddy Oriano produces salami and vegetables. Mother Gina will surprise you with her homemade pasta and her ribollita and other exquisite recipes. Carla, the eldest daughter, loves suggesting dishes of the best Chianti tradition, passed down from generation to generation. Authentic flavors are the secret of this restaurant (with) a license released 300 years ago.
"Living simple moments in full consciousness means to render them unforgettable," says the Oriano family. And Linda and I agree. We've lived many simple moments here, all of them unforgettable.
Our unforgettable experience this visit included grilled aubergina (eggplant) with mint. With our first taste, we both said, "Wow!" This eggplant had garlic slices and mint leaves on top, and was drenched in a garlic olive oil. We have never had anything like this. And here's the really good news: Linda says she'll make it at home! We're also going to pass this on to Tom and Roccell at Calzolaio in Wilton, our favorite Maine Italian restaurant, hoping they will add it to their menu.
For the third day in a row, I had a primi of pasta with wild boar sauce. This presentation included a delicious porcini mushroom sauce. Many restaurants present this with a minimum of meat, but La Bottega includes lots of small chunks of wild boar. It's my very favorite presentation of my very favorite Italian dish. Linda loved her primi of ravioli in sage butter. And she's wondering if I am ever going to order anything but the peppardelle with wild boar sauce.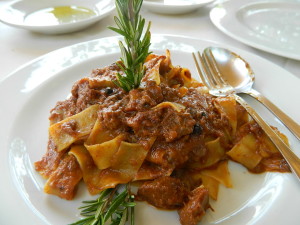 We always order the house wine in Italian restaurants. It's cheap and very good. I suggested a litre, but Linda exclaimed, "That's more than a quart!" Too much wine for lunch I guess! Or maybe she was thinking about the winding roads on the return to Greve.
We ordered a half litre and it was a perfect amount for lunch. Portions are large here, but we had shared the appetizer and agreed we could also share a dessert. Linda had seen one go by that looked really good, so she ordered it: panacotta with fruit topping. It was delicious – so delicious I asked if I could lick the plate when we were done. You can guess what Linda said. But when she went to the bathroom, I did lick the plate, and when she returned to the table, she didn't notice!
Day Five 
M.S. Michele is the tallest spot in this area and it's a favorite place for our hikes and picnics. The ancient church is humbling and the surrounding forests offer amazing views and leisurely hikes. We especially enjoy hiking here (well, it's walking really, not hiking), when the temperatures get up into the 80s, and that's where they went today with predictions of hotter days ahead.
We took a trail we hadn't hiked before and discovered even more wonderful picnic spots with outdoor grills and picnic tables. Lots of birds too, and we were pleased to identify a Stonechat. Got back to our apartment at Il Santo about 1:30 p.m. and had lunch outside in a shaded spot overlooking the valley toward Panzano, our dinner destination.
Allesandro, our host at Il Santo, has never steered us wrong on restaurants (or anything else), so when he recommended Pantinetta Sassolini in Panzano (about a 15 minute drive), we quickly asked him to make a reservation for us at 7 p.m. We are moving, each day, closer to eating like the Italians, who often begin dinner at 8 p.m. or later. Well, Sassolini doesn't even open until 7:15 p.m., so we took that as our reservation!
One other American couple arrived just after us, but the restaurant didn't really fill up until 8:30 and guests were still arriving when we left at 9:30. While the staff at many Italian restaurants are serious about their work, rather than friendly to their guests, at Sassolini everyone was smiling, friendly, eager to make our dinner special. And they did.
When we arrived, the staff was enjoying pizza and wine at the back table on the deck, and when we spoke to the host about it, he laughed and joked, "Everything is meat, meat, meat. On our day off, we eat pizza!"
We sat outside on an enclosed deck, with a tree, vines, and flowers all around us, and covers over every table to shield the hot sun. It was really very comfortable as well as elegant with cloth napkins and table coverings. I tried hard not to spill any wine on them!
The food is exceptional, especially given the low prices. We enjoyed a half litre of the House rosso for just 6 euro. We often share our meals here, and we began with an appetizer of Bruschetta, toasted bread topped with oil and chopped tomatoes. It was soooo good.
We have been disappointed with Gnocchi in many restaurants, particularly in the states, so we rarely order it, but we gave it a try, figuring it would be a good test of the chef's skills, and he hit a home run. Served in tomato sauce with a rocket salad and pecorino cheese (for just 9 euros), the Gnocchi was perfection on a plate, probably the best we've ever had.
Having shared the first two dishes, we were able, for the first time this trip, to order a Secondi: Chicken with herbs and green olives (only 10.5 euros). It was very good and a generous portion. But the real highlight was the Contorni (side dish) of baked veggies (4 euros). Wow, were they delicious!
Going for the gold now, we ordered dessert. We didn't recognize it on the menu, but our server said "it's like panna cotta," so we ordered it. It was yummy, covered with peaches.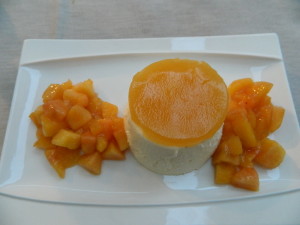 We sat for a while, enjoying the evening, the setting, languishing in the luxury of another awesome dinner, and grateful for our many blessings. When I finally told the server, "Il Conto, per favore" (check please), she smiled and quickly delivered it. It was only 47 euros, for one of the best meals we've ever had in Italy.
Read the previous installment of George Smith's Italy diary here. Future installments will be posted later.