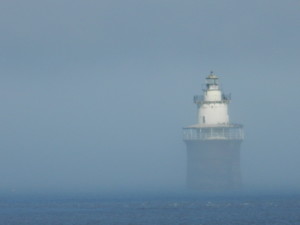 You'll not find a prettier place in Maine than West Quoddy Head Lighthouse.
It seemed very appropriate, reading this book on a bench dedicated to David Jones at West Quoddy Head Lighthouse. David was a relative of mine who ferociously and lovingly kept the grounds at the Lighthouse and park, until his untimely sudden death from a heart attack at the age of 48.
The book was "The Islandport Guide to Lighthouses in Maine," written by Ted Panayotoff and published by Islandport Press in Yarmouth. It's a small book, chalk full of information about each of Maine's 64 lighthouses, including six where you can rent rooms and apartments for a vacation.
And yes, Linda and I have now targeted those six places for our Travelin' Maine(rs) column published by the Kennebec Journal and Morning Sentinel every Thursday. One former Coast Guard Life-Saving Station also offers apartments at Quoddy Head, just down the road from the lighthouse. We hope to stay there and write about it too!
Ted Panayotoff is a lighthouse historian and American Lighthouse Foundation volunteer and guide who offers lighthouse tours on-board the schooner Mary Day in the summer. The book also provides information about lighthouse tours and cruises, including those of Monhegan Boat Line, owned and operated by the Barstows out of Port Clyde. We've ridden with them to Monhegan several times and also enjoyed their puffin cruise.
One thing you will get from this book is an urge to visit each and every lighthouse. Alas, some are privately owned and not accessible to the public, including the Lubec Channel Light which we can see from the back deck of the house we rent for a week every August in South Lubec. We vacation here often, partly because of my Lubec heritage. My great grandfather, Ephraim Johnson, was the keeper at West Quoddy Head Lighthouse from 1899 to 1931, and my Mom was born and raised in Lubec. My uncle Phil Searles was born in the lighthouse.
This book includes wonderful color photos by Courtney Thompson and Ted Panayotoff, a history of each lighthouse, and information about its current ownership and accessibility, including directions and contact information, plus nearby picnic sites and hikes. There's even a list of other books about Maine lighthouses.
After I finished reading the book, Linda and I went into the West Quoddy Head Lighthouse, admired the photo of my great grandfather and great grandmother, as well as the photo of my Mom and her extended and numerous relatives, the historic items, and the artwork.
And while I may be biased (OK, I am biased), I think West Quoddy is the most beautiful spot in Maine. If you have not yet visited, get here soon! And bring "The Islandport Guide to Lighthouses in Maine." This is the place to read it.