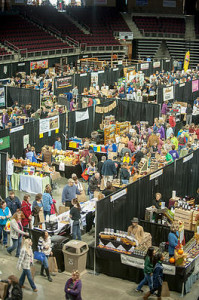 Two years ago, Linda and I discovered the Maine Harvest Festival in Bangor.
It's held in the fall and presents an astonishing array of booths featuring farms, food, fun, and fellowship. This year the festival is scheduled for Nov. 14-15 from 10 a.m. to 4 p.m. at the Cross Insurance Center in Bangor.
The first year we attended we especially enjoyed a stage presentation by Kate Krukowski Gooding that was moderated by TV 6's Bill Green. Kate, the author of several great wild game cookbooks, including my favorite, "50 Ways to Eat A Beaver," cooked up a delicious beaver stew on stage that day. And I can tell you, when it was passed around the audience, everyone loved it.
Judy Perkins is the director of the festival and does a super job of organizing and promoting the event. Last year we planned to attend the festival but missed it because my dad died that weekend. So we are really looking forward to this year's festival.
It was not surprising to learn recently that the Maine Harvest Festival has been nominated for USA Today's Reader's Choice travel award contest as a contender for Best Fall Harvest Festival. You can vote for the festival by clicking the box on the festival's website. Voting ends on Sept. 28 and the winners will be announced on Oct. 2.
We'll see you there!