Guest post this week by Linda Smith:
Belfast's Farm and Art tour gave us a great excuse to go to one of our favorite towns on Columbus Day Weekend. In an effort to please me, George knew I would enjoy a tour of farms. It turned out that one farm and a number of artists would open their spaces on Saturday and different ones on Sunday.
The great surprise was how much we both enjoyed learning about the amazing artistic process each of these people undertake.
Our first stop was to Dina Petrillo's studio in the Custom House right above the Post Office. Belfast Bay Shade Company is brim full of beautifully created lampshades. Dina explained the print making process in which she creates her incredible designs. Truthfully, I didn't exactly follow the intricate process because I only understood a fraction of the words she used.
All I know is that Dina is a gifted artist who has an eye for color and pattern. She began as a sculptor then started making print plates. She even went to Italy for a showing of her art. Once the printing made its way to translucent fabrics her husband said, "This kind of looks like lampshades." The rest, as they say, is history.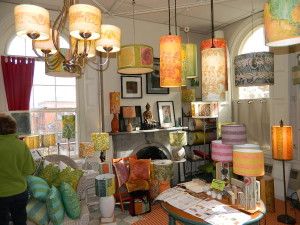 One step into her shop will immediately cheer you up. It's bright and filled with colorful patterned shades. Look for her shades in many Belfast stores, and visit her belfastbayshadecompany.com website for more info.
At the Good Karma Farm, Jim and Amy Grant create luxurious yarns from Icelandic sheep wool and alpaca fibers. We were given a tour by Amy, who explained the machinery and process involved. We encountered Stella, the duck who wanders their workspace and heard the story of how they rescued and adopted Bruce, a llama. He now happily hangs out with the alpacas.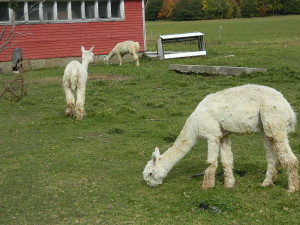 I don't think I'd ever seen Icelandic sheep, but they were cute. They get shorn twice a year but only the fall shearing is suitable for fiber use.
Our last stop was at the Waterfall Arts Studios. We thoroughly enjoyed our visit with artist Kris Engman, who is a very talented painter. She had a display of digital prints on metal, and explained how the play of light changes the art from different angles.
But her wall of larger oil paintings on linen was amazing. She walked us through the process of layering colors to create these rich paintings. A very large one titled Brambles #3 was displayed on a stand. That one took 10 months to complete, working every day she said. Do visit her website: http://kerstinengman.com for an idea of just how wonderful her artwork really is!
I overheard a lady exclaim, "This really makes me want to get into art," as she toured the offerings at Waterfall Arts, some of which consisted of hands-on activities outside. I'd say the Belfast Creative Coalition should be very pleased with the success of this event.  Meeting artists and finding out more about the art community of Belfast was a wonderful way to spend a day.
We live in a state filled with creative people. How lucky we are when we discover more about them.