In an unprecedented move, the Legislature's Government Oversight Committee sent a letter Wednesday to Gov. Paul LePage condemning his actions at a public meeting last week during which he called a lawmaker "the most repugnant human being" he's ever seen.
The committee urged the governor to apologize to Sen. Thomas Saviello, R-Wilton, and to the entire committee for what it called "undignified and disrespectful behavior."
The letter was signed by the two chairs of the committee, Republican Sen. Roger Katz of Augusta and Democratic Rep. Anne-Marie Mastraccio of Sanford, but was supported unanimously by all 12 committee members.
The governor's office did not respond to a request for comment Wednesday.
HOW THE PUBLIC MEETING DEVOLVED
LePage's outburst Aug. 20 followed the release of a report by the Office of Program Evaluation and Government Accountability that cleared the governor of any involvement in a February decision to divert timber harvested on public lands away from two Maine mills and to another company, Stratton Lumber.
The two companies that lost out on the timber, Moose River Lumber and Pleasant River Lumber, both owned by the Brochu family, had been publicly critical of the governor's position on U.S. tariffs on Canadian lumber, and some felt they were being retaliated against.
OPEGA effectively concluded that the timber diversion did not appear politically motivated or related to the governor's position on softwood lumber tariffs.
But LePage, in addressing the committee, fumed that anyone would even suggest that he meddled, and he appeared to single out Saviello, a former forester and sometime foe, as the source of that allegation.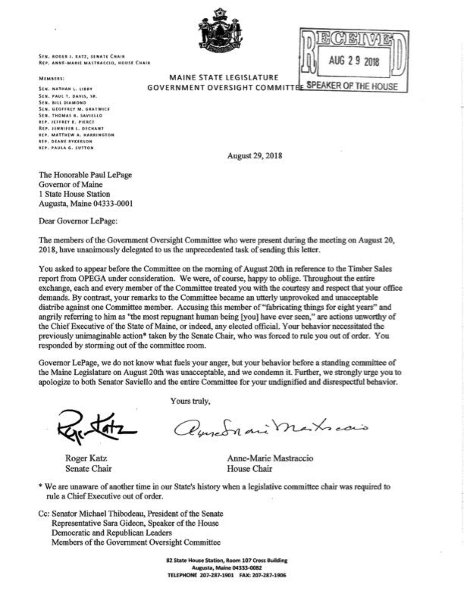 Saviello was indeed among those who raised questions about the timing of the decision during a meeting of the Legislature's Agriculture, Conservation and Forestry Committee months ago, but he said he never accused the governor of anything.
That's when things devolved.
Saviello, explaining his decision to raise the question, said, "I am not someone who fabricates," prompting the governor to jump in: "You've been doing it for eight years."
Katz then stepped in to try and defuse the situation but was unsuccessful.
LePage finally gestured toward Saviello and called him "the most repugnant human being I've ever seen."
At that point, committee members and those in the audience were visibly stunned.
Katz told the governor he was "out of order," to which LePage replied, "Thank you," and stormed out of the committee room.
Saviello, as the governor left, said, "I will not tolerate being bullied like everyone else."
'YOUR BEHAVIOR … WAS UNACCEPTABLE'
In its letter to the governor, the oversight committee said it was unaware of any time in state history when a chair has ruled a chief executive out of order.
"Governor LePage, we do not know what fuels your anger, but your behavior … was unacceptable, and we condemn it," the letter says.
Last week was not the first time that LePage's anger toward a lawmaker has led to calls for an apology.
In 2016, the governor left a profanity-laced voicemail for Rep. Drew Gattine, a Democrat from Westbrook, that drew widespread condemnation from all sides. LePage later apologized.
Saviello, a moderate Republican, has challenged the governor in the past, including in 2015, when former Democratic House Speaker Mark Eves accused LePage of conspiring to keep him from getting a job at a charter school partially funded by the state.
Last year, LePage and Saviello clashed over whether to put a deposit on small bottles of alcohol often referred to as "nips."
Eric Russell can be contacted at 791-6344 or at:
Twitter: PPHEricRussell
filed under: