WATERVILLE — Gov. Paul LePage has denied a request to pardon an underlying trafficking conviction for Waterville resident Lexius Saint Martin, who was deported to Haiti earlier this year in a high-profile and contentious case that separated him from his wife and children.
A pardon would not have brought Saint Martin back to the U.S. automatically, but it would have helped pave the way for his attorney, Evan Fisher, to appeal to federal officials in the effort.
"It's either tone-deaf or it's cruel to send such a letter before Thanksgiving," Fisher said Tuesday.
The Governor's Board of Executive Clemency held a hearing July 19 on the request to pardon the conviction and then made a recommendation to LePage. That recommendation was not made public.
Late Tuesday afternoon, LePage responded to a text message from a reporter requesting comment, saying he really did not have much to add as to why he rejected the pardon request.
"My problem with this case was he had nearly 10 years to address the pardon and his immigration issues," LePage said. "He completely ignored our laws until they caught up with him. Where was his support system during this time? Why was he not thinking of his family and what if — he got deported!!!!!!"
The letter notifying Saint Martin of the governor's decision, dated Nov. 15, is from his chief legal counsel, Madeline Malisa, who was present for the July hearing.
Her letter says LePage "declined to grant you a pardon at this time. While we understand that this is disappointing, please know that the Governor has closely reviewed your petition and the Board on Executive Clemency's recommendations in reaching this decision. The Constitutional authority to grant clemency is an extraordinary power which the Governor believes should be used sparingly."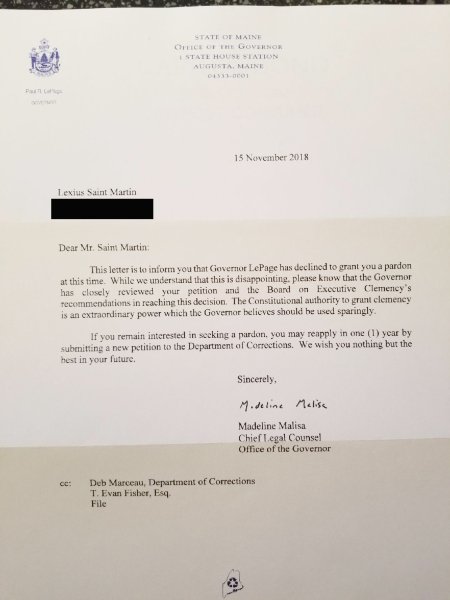 The letter goes on to say that Saint Martin may reapply within one year by submitting a new petition to the state Department of Corrections. "We wish you nothing but the best in your future," the letter concludes.
Fisher said he plans to follow the process and file a petition to the board again in a year, when the new governor, Democrat Janet Mills, is in office.
"We're extremely disappointed," he said. "We're going to appeal again. We hope incoming governor Mills is going to reach a different conclusion."
Fisher said he agrees with LePage that the authority to grant clemency should be used sparingly, but he wondered aloud why it was not used in this case.
"If putting a father back with his kids is not a justification for using the power, then what is it for?" Fisher said.
A pardon does not expunge one's record. The conviction still stands on a criminal record, but it can be annotated that it has been pardoned by the governor.
ALLOWING REDEMPTION
Saint Martin, 35, has been in Haiti since February, when he was deported after being arrested Jan. 2 on the Waterville street where he lives by U.S. Immigration and Customs Enforcement officials. He had just left his house to go to work.
In 2007, Saint Martin was arrested for trafficking in cocaine. He was convicted in 2008, served seven months in jail and vowed never to get involved in anything illegal again. However, he had violated his immigration status. An immigration judge ordered his removal.
He was taken to Texas, where he awaited deportation, but he was released when Haiti suffered an earthquake and could not take people back. The deportation order, however, was not rescinded.
Three years later, in 2010, Lexius met and fell in love with his would-be wife, Mindy, through friends. She said she would not date him unless he got a job. Two days later, he landed a job cleaning for a business at a hospital in Boothbay and later started his own successful business, LMD Cleaning Services.
He had been living in the United States since 1994, arriving as an 11-year-old refugee with his father and siblings. He was in the U.S. legally and had green card status. He attended school in Florida and later came to Maine to work in the blueberry fields and stayed.
On Feb. 3 this year, a crowd rallied outside City Hall in Waterville, calling on Maine's top politicians to help Saint Martin return to the U.S. One of those who attended was Mindy Saint Martin's former high school English teacher, Linda Woods, who continues to support the family and runs a gofundme page for Mindy Saint Martin to help with family expenses.
"I'm crushed that Gov. LePage couldn't forgive something that happened so long ago and especially since Lexie has shown growth and commitment to his family," Woods said Tuesday. "It's too bad the rejection letter arrived so close to the holidays."
Another supporter, Hilary Koch, said Tuesday in an email that "we can all agree it is important to have consequences for those who break the law."
"We must, however, also recognize that our laws allow for redemption," Koch said. "By denying Lexius Saint Martin a pardon, Gov. LePage has shown he is incapable of empathy. People came to the New World seeking a second chance. Lexius Saint Martin was worth a second chance, and my heart breaks for him and his young family."
FAMILY SUPPORT
On July 19 this year, about 20 Saint Martin friends, relatives and former colleagues turned out for the Clemency Board hearing, held in the Tyson Building at the state Department of Corrections. Several spoke, including Mindy, 28, and even Lexius, who was reached in Haiti via cellphone and placed on speaker phone.
Mindy said her husband was a wonderful father to their children, Donovan, 5, and Marcus, 2. He has not yet met their daughter, Mya, who was born in May.
At the hearing, Wayne Printy, chief financial officer for LincolnHealth, which operates hospitals, physician practices, long-term care facilities and health centers, said LincolnHealth employed Lexius' business, LMD Cleaning, at its St. Andrews campus in Boothbay Harbor. St. Andrews is an outpatient-only department of LincolnHealth's hospital in Damariscotta.
Before the hearing, Printy said Saint Martin's reliability was "incredible," and LincolnHealth had gone through three firms to try to replace Saint Martin, but it has been difficult.
"We can't get anyone to do the quality of work that he did," Printy said, adding that Saint Martin provided "super services" and has an "extraordinary work ethic."
"He's very well-liked and he's very much missed by our employees," Printy told the board.
Saint Martin's sister, Katia Saint Martin, flew to Maine from Florida to speak on his behalf. She said their parents and six children came to the U.S. legally about 25 years ago as their father faced persecution in Haiti, where there was a lot of civil unrest. It was difficult adjusting to the new culture, language and life in the U.S., she said. The children were bullied in school because they were immigrants, and Lexius was always the protective big brother, she said.
With Saint Martin on speaker cellphone, Lexius was asked to explain how he got involved in trafficking crack cocaine in 2007. He said he was working at Walmart in Augusta and had friends who were involved in drugs, and he always wanted to please people.
"At the time, I was young and I made a stupid choice," he said.
He said he does not have much of a life in Haiti, which is in turmoil, and he lives in a shack with no running water or electricity. There are no jobs, he eats beans and rice and gets sick on some food and water. Some food, he said, he can barely eat because his system is not used to it.
He was and asked if, when he pleaded guilty to criminal charges, his attorney at the time explained to him that as a felon, he would be deported automatically. He also was asked if, when he came to the U.S., he was told if he ever was convicted of a felony, he would be deported. He answered "no" to the questions.
Fisher told the panel that Saint Martin is more an American than a Haitian, as he had lived here 25 years. He is the model of what the state wants people to be like when they leave the criminal justice system, according to Fisher.
Not having Saint Martin at home poses an extraordinary hardship for his family, which has had to ask the state for help in making ends meet and feeding the children, Fisher said. "It's a hardship for everyone in the state, because we all foot the bill."
Dwight Leighton, owner of Caswell's Liquidation Centers, said he has known the Saint Martins six or seven years and Mindy Saint Martin's family members have worked for him. He said he hoped the panel could help Lexius Saint Martin as he is "the greatest," and he wished he could get 10 Lexiuses to come to work for him.
"He's just what I like my kids to be," he said.
A SAD THANKSGIVING
Mindy Saint Martin had been preparing for Thanksgiving with her family Monday when she received notice of the denial, and she was disheartened, according to Fisher, her attorney. By mid-afternoon Tuesday, she had not responded to a request for comment, and Fisher said she might not, at least for now.
"We had coffee this morning," Fisher said. "She's holding it together. This is bad news for her. It's bad timing. Her older son (Marcus) told her this week he didn't want to have Thanksgiving because dad's not going to be there. That's the kind of thing she's dealing with."
Fisher said Mindy is a strong woman and will continue to advocate for her husband and their family. Lexius is not doing well in Haiti, he said.
"I know only through her (Mindy) how he's doing," Fisher said. "It's not well. There's been more rioting in the streets, there's been violence, and this is not something Lexius is used to. It is very foreign to him. He was very young when he left Haiti."
Mindy had been maintaining "a little bit of hope," and the letter from Malisa, three days before the holiday and four months after the hearing, was a setback, according to Fisher. He said, however, that he and the Saint Martins knew it was a possible outcome.
"It's unfortunate timing, right before Thanksgiving," he said.
Amy Calder — 861-9247
Twitter: @AmyCalder17
filed under: