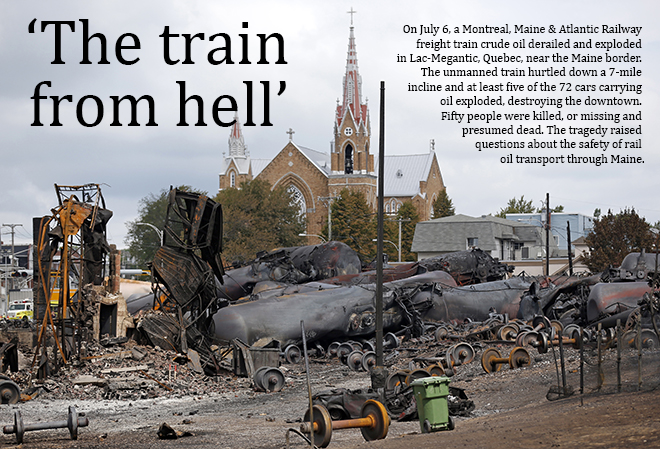 Press Herald/Maine Sunday Telegram coverage of the tragedy that raised questions about rail oil transport through Maine:
View interactive graphics
Sept. 17, 2013
Bankrupt Maine railroad asks for help with legal fees
Legal costs could leave the Montreal, Maine and Atlantic Railway no funds for compensating victims.
Sept. 12, 2013
Pam Am Railways official: We label, 'check' cars
She reacts to news that oil in the Lac-Megantic disaster was incorrectly labeled for its volatility.
Sept. 12, 2013
Filing calls for moving all civil claims in train explosion to Maine
The court-appointed trustee for the Montreal, Maine & Atlantic Railway filed a motion to transfer all 19 pending wrongful-death and accident-injury cases against the railroad to Maine.
Sept. 11, 2013
Volatility of oil on Quebec train was higher than listed
But officials say using safer tank cars may not have limited the deadly crash's damage. They don't say who made the error, or if it was intentional.
Sept. 7, 2013
Maine railway to use two-person crews if it gets financing
A trustee says the decision should not be seen as an admission that one-person crews are unsafe or that a one-person crew led to the deadly disaster in Quebec.
Sept. 5, 2013
Maine railway seeks loan to operate through bankruptcy
The railway, which runs from Canada through central Maine, has been in jeopardy since a deadly derailment killed 47 people in July.
Sept. 3, 2013
Lac-Megantic adds voices on crew size issue
Since a 1963 law, federal officials have let the railroad owners and unions settle the safety vs. money fight, but that may be changing.
Sept. 3, 2013
Maine libraries collecting books to donate to Lac-Megantic
Farmington Public Library Director Melanie Coombs launched the effort to help rebuild the Quebec town library destroyed by a runaway train in July.
Sept. 3, 2013
Maine railway's legal fees to hinder pay for victims?
A judge fears a 'run-up' of costs in MM&A's bankruptcy, leaving little funds left to compensate victims of the Quebec disaster.
Aug. 21, 2013
Irving emerges as one suitor for Maine railway
A vice president with the Saint John, New Brunswick-based company said J.D. Irving Ltd.'s NB&M Railways is reviewing its options.
Aug. 19, 2013
Rail line's bleak outlook a challenge for Maine
With the return of service to Lac-Megantic in doubt, the state is faced with losing an important economic link.
Aug. 13, 2013
Maine railroad in crash shut out of Canada
The company loses its ability to run across the border because of inadequate liability insurance, which isn't a requirement in the U.S.
Aug. 9, 2013
Maine railway's insurance far short of damage
The company faces over $200 million in crash claims but only has a $25 million policy, angering Quebec residents.
Aug. 8, 2013
Judge: During bankruptcy, Maine railway can still operate
The legal action gives the Maine-based company time to reorganize while it seeks Chapter 11 protection.
Aug. 7, 2013
Disastrous crash forces Maine railway into bankruptcy
The company files Chapter 11 as it seeks a buyer or tries to straighten out its affairs.
Aug. 7, 2013
Train industry to fight proposed ban on one-man rail crews
Pointing to the deadly crash in Lac-Megantic, unions back Rep. Mike Michaud's bill, saying it's a safety issue.
Aug. 4, 2013
A rail hub in Maine, suddenly too silent
Its link to Quebec and a wider world severed at Lac-Megantic, Brownville struggles with layoffs and the loss of its lifeblood.
Aug. 3, 2013
U.S. railroads get emergency safety order
Also Friday, Maine U.S. Rep. Mike Michaud introduces a bill that would effectively ban the practice of one-person crews on freight trains.
July 27, 2013
'My mission failed': Rail chief admits mistakes in disaster's wake
Ed Burkhardt's missteps after the deadly July 6 train explosion in Lac-Megantic made him one of the most reviled people in Canada.
July 27, 2013
Railroad executive puzzled by police raid
After a train crash kills 47 people, Ed Burkhardt says the company is cooperating with the investigation, which remains limited to Canada.
July 24, 2013
Rail cars parked on siding leave some Mainers uneasy
The practice is common in South Portland, Scarborough and Yarmouth, but officials say it's safe and response crews are well-trained.
July 23, 2013
No more one-man crews on oil trains, Canada says
The order applies to trains carrying hazardous cargo like the one operated by a Maine rail company that crashed, killing 47.
July 19, 2013
Maine's tracks getting lots of safety scrutiny, regulator says
Federal Railroad Administration head Joseph Szabo agreed to keep Reps. Mike Michaud and Chellie Pingree updated about safety inspections of rail lines that transport crude oil through Maine.
July 19, 2013
Class-action suit initiated against Maine company in train crash
Yannick Gagne and Guy Ouellet would seek damages from three companies, including the Maine-based Montreal Maine & Atlantic Railway.
July 17, 2013
Maine asks freight operators for policies on securing trains
The request comes after an unattended train carrying crude oil rolled away, crashed and exploded in Quebec, killing 50 people.
July 17, 2013
Railway at center of tragedy struggling financially
Montreal, Maine & Atlantic lays off 79 workers after the Quebec crash severed Maine from its network and business dropped.
July 17, 2013
Railway's Maine lines inspected recently
U.S. officials won't release the results as they prepare for a more thorough look this week sparked by the deadly crash in Quebec.
July 15, 2013
After Quebec disaster, railroad inspectors coming to Maine
The federal review will start less than two weeks after a train disaster in Quebec that killed 50 people and devastated an entire town.
July 14, 2013
Maine economy tied to rail line's fate
Manufacturers depend on the Montreal, Maine and Atlantic Railway and fear higher costs.
July 14, 2013
For rail company, rebirth may yield to ruin
The rising demand for crude oil transit gave hope to the Montreal, Maine & Atlantic Railway, but may also be prove to be its undoing.
July 14, 2013
After Quebec disaster, feds to focus on Maine
At Maine representatives' request, they will inspect train tracks of the Montreal, Maine and Atlantic Railway.
July 12, 2013
Is Maine on top of oil-by-rail risks?
It has little authority on safety and a shrinking spill-cleanup fund amid soaring oil shipments.
July 12, 2013
Bill Nemitz: A disaster of our own seems inevitable
If an unsafe tank car carrying crude oil along Maine's rail lines were to crash, we'd have an environmental catastrophe on our hands.
July 10, 2013
Signs of a criminal act in Canada train explosion
Investigators consider that and other possible causes of a train crash that left at least 15 dead and dozens missing.
July 9, 2013
Derailment fuels debate over rail vs. pipelines for oil transport
The crash in Lac-Megantic drew national attention to the growing trend of sending crude oil by rail from North Dakota and Canada to refineries on the Eastern Seaboard.
July 9, 2013
Train company averages two crashes per year
As confirmed deaths reach 13 in the small Canadian town, investigators look into whether a fire an hour before the explosions may have played a role.
July 6, 2013
Increased oil activity accompanied by risk
Last March, a Pan Am Railways train carrying 445,000 gallons of crude oil derailed in Mattawamkeag.
July 6, 2013
Train derails, explodes near Maine-Canada border
One person is confirmed dead after an unattended freight train carrying oil rolls into a Quebec town, creating a daylong inferno.
Interactive graphics
Oil shipments by rail in Maine
Since 2011, oil shipments across Maine to New Brunswick have skyrocketed. The Montreal, Maine & Atlantic Railway and Pan Am Railways carry crude oil that originated in North Dakota to a refinery owned by J.D. Irving in St. John, New Brunswick. An Irving subsidiary, Eastern Maine Railway, connects to the MM&A and Pan Am lines in Mattawamkeag. Pan Am has not yet reported its oil total for April.
Source: Maine Department of Environmental Protection
U.S. crude oil shipments by rail
With pipelines running at capacity and new oil fields operating beyond their reach, oil companies are moving ever-increasing quantities of crude oil by rail. This chart shows quarterly shipment totals, by rail carload, from 2009 through the first quarter of 2013.
SOURCE: Association of American Railroads