The League of Women Voters of Maine supports ranked choice voting, which encourages candidates to reach out to more voters, alleviates concerns about the "spoiler effect," and ensures the election of candidates who have majority support.
Maine's current system of plurality voting, in which the candidate with the most votes wins, can be thorny in elections with more than two candidates.
Ranked choice voting:
• Ensures a majority winner and is most likely to elect a candidate with broad appeal.
• Minimizes "strategic" voting, allowing voters to express their sincere preferences among candidates.
• Eliminates the "spoiler" effect of third-place finishers.
• Does not require a separate run-off election.
• Promotes civility in campaigns.
• May improve voter participation.
With plurality voting:
• Voters may be reluctant to vote for the candidate they most strongly support for fear of facilitating the election of the candidate they most strongly oppose. The winning candidate may be one fervently supported by a minority of voters but lacking the broad support of the majority.
• In multi-candidate races, the conversation too often is about polling and electability, rather than about the issues and the alternative visions, experiences and capabilities offered by the candidates.
• One or more candidates may be labeled as "spoilers."
Maine has a long history of multi-candidate gubernatorial races, but we have had a majority winner only twice in the last 40 years, both times re-electing an incumbent: Joseph Brennan in 1982 and Angus King in 1998. In every other gubernatorial election since 1974, the winner has received less than 50 percent of the vote.
Maine's minority-elected governors, who have been Democrats, Republicans and independents, might well have won even with ranked choice voting, but they would have done so with demonstrated majority.
This is not a partisan issue. Ranked choice voting does not inherently favor any party. Republican, Democratic, Green and Libertarian parties across the United States have endorsed the system at one time or another.
While ranked choice voting might be a new idea for a lot of people, it is actually an American invention dating back to 1871. It has been used internationally in governmental elections since the early 20th century, and is now used in municipal elections in several major cities in the United States, including Portland. It has been percolating as a possible statewide reform in Maine for more than a decade, first introduced in the Maine Legislature in 2001. Subsequent bills have been introduced over the past decade sponsored by Republican, Democratic, and independent lawmakers.
Why do we support ranked choice voting over a traditional run-off election? A traditional run-off election adds more expense, extends the campaign season and drives up the cost of campaign financing, thereby increasing the influence of big money on elections. Delayed runoff elections, held weeks after the November election, often result in lower voter participation, which means the ultimate winner can be elected by a very small minority of voters.
The League does not support requiring a majority winner if it means holding a separate run-off election.
Another alternative to plurality voting is called the top-two primary. In this option, all candidates run in a primary open to voters regardless of party enrollment, with the top two vote-getters advancing to the general election.
The League in Maine does not support this alternative. While it may be less expensive to administer, it denies members of political parties the opportunity to choose their own nominees, and it could result in two members of the same political party, with minimal support in a multi-candidate field, facing each other in the general election.
These campaigns can be more negative than ever, devoid of serious issue debate, and deny voters a real choice.
We know that numerous logistical issues must be resolved in order for ranked choice voting to be practical in a statewide election, and Maine voters might have to wait a couple of weeks to learn the final outcome of a statewide election decided by ranked choice voting. The League of Women Voters, however, believes it would be worth the wait to have higher-quality campaigns and majority-elected representatives.
Our endorsement of ranked choice voting was reached after a three-year study and in concurrence with our sister Leagues in Arizona, California, North Carolina, Vermont and Washington. We encourage Mainers to learn more about ranked choice voting and become informed voters when they cast a ballot on this issue in 2016.
Polly Ward, of Freeport, is a member of the state board of the League of Women Voters of Maine. The League is a nonpartisan political organization that that encourages informed and active participation in government, works to increase understanding of major political policy issues, and influences public policy through education and advocacy.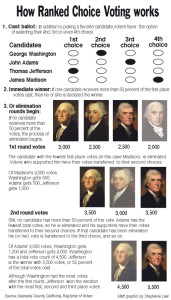 filed under: