Maine is known as Vacationland, a land of lakes and rivers, the home of lobsters and lighthouses. But it also could be called a hiker's haven.
Some 282 miles of the Appalachian Trail run across Maine. Acadia National Park offers 120 miles of trails. And there are hundreds of miles of trails at state parks and land trusts.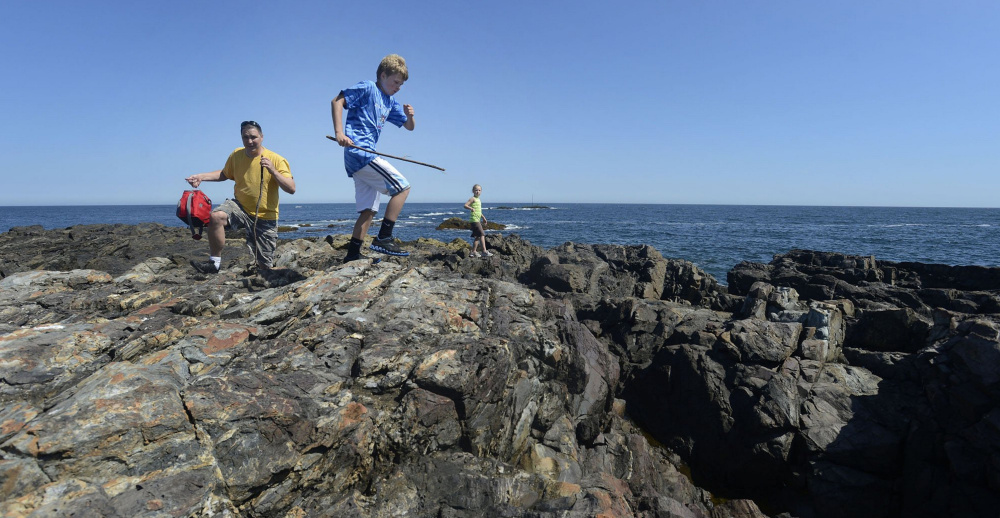 Sometimes the summers in Maine are short. So where are you going to stretch your legs?
There are hiking books filled with ideas, if you've got a whole day to give to the task.
Here we give summer tourists what summer tourists want: Easy hikes with classic Maine views. Each of these walkabouts offer iconic Downeast scenes as well as a taste of history, a part of the culture, wildlife, or simply peace and quiet.
East Point Sanctuary, Biddeford
The hike: This coastal walk takes no time at all and pops you out on a rocky outcrop overlooking the Atlantic. It's an alternative to the boulder scramble along the Biddeford Pool peninsula that has wild coastal appeal but can be difficult to navigate. And if you take the easier sanctuary path on a quiet weekday, it's an ideal picnic spot.
Hiking time: 10 minutes
What to expect: The path is uneven but short. No dogs.
The view: Rocks, ocean, nothing between you and Portugal.
Parking: Off street.
Directions: Take Route 208 out of downtown Biddeford and follow it to the left where it splits with Route 9. Go all the way to the end and look for the sanctuary signs.
Devil's Back Trail, Harpswell
The hike: If you didn't know this trail was here, you could easily fly by it on the way to Bailey Island. Yet as quintessential Downeast views go, this is as good as it gets. The rocky coast, lobster boat motors and screaming gulls fool you into thinking you are three to four hours up the coast, not a half hour outside Portland.
Hike time: 30 minutes.
What to expect: The shaded, quiet path involves some hiking up and down a rocky slope.
The view: Ocean, lobster boats and woods.
Parking: Limited.
Directions: Take Route 1 out of Brunswick to Route 24. Go several miles past Mountain Road to where the road takes a hard left. Soon after, trail parking is on the left.

Mackworth Island, Falmouth
The hike: A gift of Gov. Percival Baxter, who gave us Baxter State Park, this island is a snap to get to from Portland. You could even bike or run here, and yet feel remarkably far away on this forested outcrop of wild land. From Mackworth, you look through pine trees to a half-dozen islands and Portland's Eastern Promenade.
Hike time: 20 minutes.
What to expect: The rooty woodland path can be tough going to for senior hikers, but even if you only venture halfway, the scenery is worth it.
The view: Islands, oceans, Fort Gorges, ducks and seals.
Cost: Donations accepted.
Parking: Limited.
Directions: Take Route 1 north, and after the Martin's Point Bridge take Andrews Avenue and follow it to the causeway.
Timber Point, Biddeford
The hike: This has a little bit of everything as far as the riches of the Maine coast: marshes, rocky beaches, scenes of islands and the open ocean. The 97-acre peninsula offers a 1.4-mile loop trail past the Little River Estuary and a lookout to Timber Island, which also can be accessed at low tide. A tide clock here helps visitors safely time their crossing. There's just about everything you need for an adventure but a packed lunch.
Hike time: 40 minutes.
What to expect: Easy, flat walking along a dirt path.
The view: Something for everyone, especially birders.
Parking: Limited.
Directions: Take Route 9 from Kennebunkport or Biddeford to Granite Point Road.
Wells Reserve, Wells
The hike: The scenery here is typical of a coastal farm. Trails run through a mature forest, over marshes on boardwalks, past an estuary and through mowed fields rich with butterflies. Several marked trails provide vastly different views. And guided tours by naturalists can teach you about the ecosystems.
Hike time: 50 minutes
What to expect: The flat trails here meander past fields, woods, the Little River and the coast. No dogs allowed.
The view: Peaceful river scenes and a small beach.
Cost: Donations welcome.
Parking: Ample.
Directions: Take Route 1 in Wells to Laudholm Road before the Route 9 intersection. Follow it to the reserve's entrance.

Prouts Neck, Scarborough
The hike: This cliff walk winds past Winslow Homer's home where he painted many of his masterpieces from 1884 until his death. While the scenery is wild and filled with ocean spray, one of the most enchanting aspects of this hike is what you hear: seagulls and crashing waves. This hike can take much longer, depending on how long you linger at the many vantage points.
Hike time: 60 minutes.
What to expect: Narrow cliff walk with some rocky beaches.
The view: Good enough to serve as inspiration for one of the greatest American painters.
Cost: $10 for parking.
Parking: Ample.
Directions: From Route 1 in Scarborough, take Black Point Road to Ferry Road on the right. Take it to the town beach. Walk along the beach back to the road and follow it to the circle at the end and the trail head.